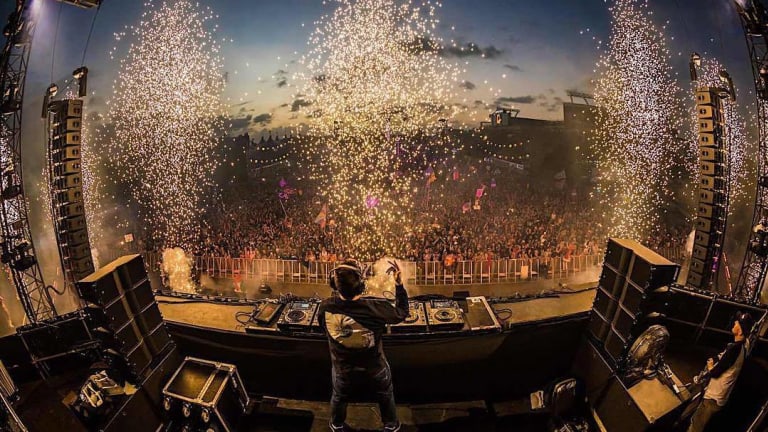 Vibedration Backpacks are Taking Festival Season by Storm
Stay hydrated with this handy backpack to carry all the essentials you need for the day.
Spring is near, which means festival season is beginning. With miles of walking and hotter temperatures, it's important to stay hydrated. Especially with temperatures hitting up to the 100s in certain states, drinking water is by far the most important aspect of staying healthy at a festival. Vibedration has taken over the festival season by storm by teaming up with them and hosting filling stations to help beat the heat.
There are tons of new styles and designs trending in Vibedration ranging from rave, hippie, basic and designer. That way, even the newest of festival goers or non-festival goers can enjoy one of these backpacks. The best part is all of these backpacks are BPA-free and free of microbes. With tons of size options, they are great for the lightest of travelers or someone looking to bring an extra pair of clothes for the evening.
Hydration packs allow you to take water breaks even in the middle of a set, a light show or a shuffling routine. You can carry your glow gear, eye wear and other festival must-haves in your bag, keeping you hands-free all festival long!"
Vibedration backpacks are available in 1, 2, or 3-liter packs to keep all the handy essentials with you. It's fantastic for carrying all the gear to keep you set for the entire day. Don't miss out on this trendy trick, and join the vibe tribe today! 
Check out a sample of what they have to offer below!
Pack Dimensions:

11" height
9" width (across shoulders)
4.5″ depth

Front Pocket Dimensions:

5.5" height
6.5" width
1" depth

Total Weight: 0.9 lbs

Pack w/o water bladder: 0.68 lbs
Empty 1.0L water bladder: 0.22 lbs
Note: Add 2.2 lbs when water bladder is filled with 1.0L of liquid
Bladder is easily removable through the main compartment pocket
Silver-plated zipper pullers coupled with the ultra durable rainbow zippers for extra shine
Shoulder straps with concealed zipper to help protect hose and prevent mouthpiece from getting dirty
Pack Dimensions:

17" height
10" width (across shoulders)
3.5″ depth

Pocket Dimensions:

Front pocket (can fit an iPhone 6 Plus and other accessories)
Secondary pocket (has key clip and can store wallet, snacks, sunscreen, etc.)
Main compartment pocket (can fit a light article of clothing and other festival goodies)

Bladder is easily removable through the main compartment pocket
Reversed zippers for added strength and durability
Shoulder straps with concealed zipper to help protect hose and prevent mouthpiece from getting dirty
Padded p-board backside, providing superior comfort for all-day use
Adjustable sternum strap with 7″ of adjustable material to comfortably fit all sizes
Pack Dimensions:

18" height
12" width
4″ depth

Pocket Dimensions:

Front pocket (has key clip and stores an iPhone 6 Plus, wallet, keys, and other personal belongings)
Compression pocket (additional storage, often used for larger articles of clothing)

10" height
7" width
6" depth

Secondary pocket (stores snack, sunscreen, a light article of clothing, and other necessities)
Main compartment pocket (fits full 3.0L bladder and other festival goodies)
Bladder is easily removable through the main compartment pocket
Reversed zippers for added strength and durability
Shoulder straps with concealed zipper to help protect hose and prevent mouthpiece from getting dirty
Padded p-board backside, providing superior comfort for all-day use
Adjustable sternum strap with 7″ of adjustable material to comfortably fit all sizes
H/T: Vibedration