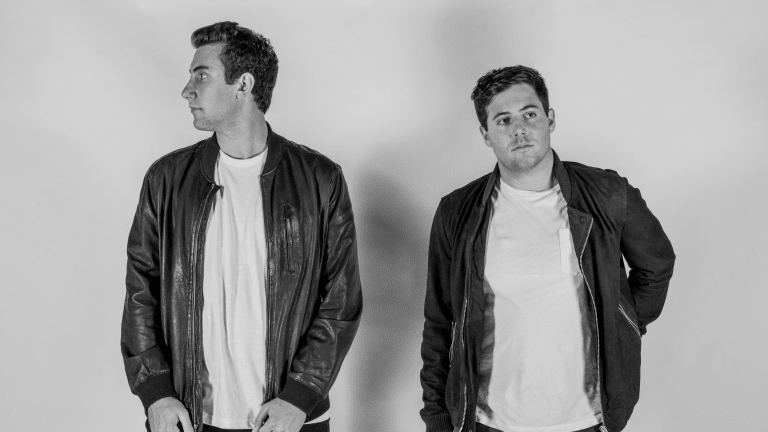 Two Friends' Eli Sones Chats BBQ, Self-care and Philanthropy [Exclusive Playlist]
Eli Sones of Los Angeles producer pair Two Friends demystifies the Source Records release "Just A Kid" (feat. Kevin Writer) and exactly what it takes to get that sculpted derrière.
Betwixt The Just A Kid Tour, happy house disc jockeys Two Friends premiere their Dua Lipa "IDGAF" rework today on Proximity. Matt Halper and Eli Sones' (Two Friends) claim to fame includes remixing millennial melody "Mr. Brightside" by The Killers, which racked up 3.91M SoundCloud plays. With 27 Hype Machine #1 singles, it's no wonder Two Friends' have garnered support from The Chainsmokers, Tove Lo and Tiësto. Two Friends' fun-filled sets, rigorous travel schedule and goodwill evoked my curiosity. 
Uncover a few methods to stay in tip-top shape.
When we're on the road, we really try to eat even healthier than we would when we're not on the road. It's really easy to get sucked into airport fast food, and if you're in the south, you want to try the best barbecue or all of the local favorites. It's hard not to do that, especially if you're traveling to a new city for the first time. We need to overcompensate because of the short sleeps and long airplane rides.
There are some nights where you know you're going to have a brutal night of sleep. You're going to finish the show, be back at the hotel at 3 a.m. and be picked up to go to the airport at 6 a.m.; in the situations where sleep is an option, we try to value that. We need to not only value our physical health but our mental health, in the sense of not getting burnt out. There are some nights where we need to be the old grandpas who end the party early.
When did the mutually beneficial United in Harmony opportunity come about?
They operate Camp Harmony, which is basically a summer camp for underprivileged and/or homeless children in Los Angeles. They go for a week, and it's basically a normal summer camp experience. They stay in cabins. They do sports, hiking and all sorts of activities in Malibu. Our high school has a very good relationship with them, so we knew a lot of people who volunteered as counselors there.
It was important to us to give back to our community and do something special like this. It all came together when we wrote a song called "Just A Kid" (feat. Kevin Writer). The title of the song, lyrics and message naturally lent itself to being about not having to grow up too fast. On a more musical level, we had the idea that it could be really cool to record a kids choir. You could get the whole choir to do background vocals for a song. All of these different ideas meshed perfectly when we had written "Just A Kid." If we are going to be working with kids, let's take this a step further and work with Camp Harmony.
We got in touch with them and asked if we could come. We brought in some microphones, made a little portable setup and recorded the kids. Then, we also got to teach a songwriting workshop for them. We had a room set up and they'd come in. We'd ask them what their favorite activities were. We wanted to make it fun for them. One of the songs we wrote, was about their favorite foods in the cafeteria. We taught them basic stuff about how songs are made and recording works. We got to write new songs with them and record "Just A Kid." Overall, it was a really great experience. We are excited that a dollar from every ticket on our current The Just A Kid Tour is going to go back to Camp Harmony, as well as a portion of the song's proceeds.
What keeps your performances lighthearted?
It's no act, calculated maneuvering or whatever. Matt and I grew up together in LA. We met each other when we were 12. We went to middle school and high school together. We were best friends, way before we started working on music together. We didn't start working on music until the very end of high school, right before we graduated. From seventh to twelfth grade, we were literally best friends. At the end of the day, we don't want to look back at this and think it was strictly business.
How do you build a "big bootie"?
It's a bit of a process. We love working on them. People seem to have started a little cult following of it. We try to stick to a schedule of one every six months. When we are working on them, it's an extended casual period of trial and error. For an hour or two at night or on an airplane, we'll basically just mess around and try different mashup combinations. We have a ton of vocals and instrumentals that we search for and download. We figure out what key they are in, match their key and tempo. We really buckle down for probably the last week and a half, once we're done with the experimentation phase. Those are always super fun to work on, just finding a ton of sing-a-longs and throwbacks. 
No, really.
I don't know if I'm the authority on that. I do have a nice big one, but I don't know if it's nice and sculpted. I'm going to raincheck that question for Matt. Matt has a nicer booty. He'll give you the secret. Maybe squats are the key? I don't do enough squats. I don't want to falsely give advice. You know what, I'm going with squats. Squats are the key to a big booty. 
Connect with Two Friends: Facebook / Twitter / Instagram / SoundCloud