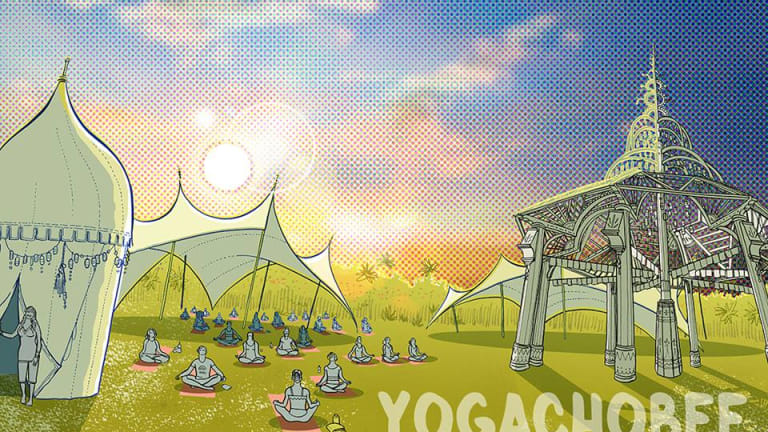 Yogachobee Returns as an Integral Part of Okeechobee Music + Arts Festival 2018
This year's edition of Yogachobee will feature a variety of yoga, acroyoga, and unique workshops. A special healing corner will feature massage and drum circles.
Yoga has been becoming a huge trend and it's being offered in all sorts of studios all over the world. There are different types of yoga evolving including aerial yoga to beer yoga and it's amazing to see something so simple evolve into unique forms of art. 
Over the past few years yoga has begun to spring up at various festivals around the world. Although festivals like Electric Forest carry yoga, Okeechobee Music and Arts Festival has taken it to the next level naming their section of yoga as Yogachobee. With many teachers, there is a different form of yoga that everyone likes over a span of 4 days. All levels of fitness are welcome there.
On combining yoga and music Yogachobee states,
"Yoga is where we connect with our bodies, the stillness in our hearts and minds, and the pure electric bloom of our souls.Yogachobee exists as a home, a place of returning, of integrating, restoring, inspiring, and aligning amidst the storm of magic all around. It's a space where you can always find peace." 
It's a great way to be able to connect with other like-minded souls on a spiritual level during the day and jam it out to the music at night. From acroyoga to vinyasa yoga to using binaural beats, this barely hits the surface of what is offered at Okeechobee Music + Arts Festival.
Yogachobee is run by director Joaquin Antonio De Teresa and he offers a unique form of yoga practice called Boom Yoga. Try waking up to Boom Yoga with the LAVA orchestra which involves sounds at 432 Hz, mostly Asana with pranayama, guided visualization, and deep-relaxation coupled with nurturing hands-on assists.
Want to feel more connected to your body and inner self while getting a good workout? Okeechobee has this and offers traditional takes on yoga.
Instructor Alexandra Carvalho has said about her class,
"My students are encouraged to have fun, laugh, humbly surrender and move beyond what they believe their capacity to be. Expect a deep, fiery and devotional practice, stepping off the mat feeling empowered, free and loved."
Other features of this year's Yogachobee feature a variety of workshops including tackling climate change by Kyle Calian, Didgeridoo Sound Odyssey by Jared Bistrong, and Stillness Meditation with Brooke Danielle Rosen. But the possibilities of yoga are endless. With unique sessions such as laughter yoga, energy flow yoga, love yo'self yoga, listen flow yoga and even skylight yoga, you can expect a jam packed weekend of discovery and growth.  
Whether or not yoga is your thing, there is something for everyone at this amazing music festival whether it's the food, the beautiful beach, or the wonders of nature. What are you waiting for? Okeechobee Music + Arts Festival is a less than a month away and is from March 1 – March 4. You can read more about Yogachobee and its instructors this year on Okeechobee's website. 
H/T: Okeechobee Music Festival
Images Courtesy of Okeechobee Music + Arts Festival