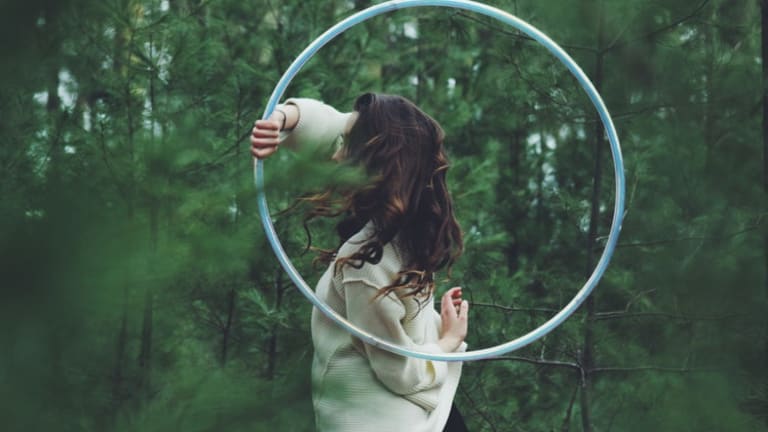 PopLockandHoopIt Has The Perfect Hoop For Any Occasion
Whether it's hooping at festivals, traveling with your hoops or just beginning on your flow journey, PopLockandHoopIt has you covered.
PopLockandHoopIt is an amazing Etsy hoop shop based out of Ithaca, New York. The shop owner, Danielle Kelly, has nearly 10,000 sales and an impressive average customer review of 5 stars.  
When you first decide to embark on your flow journey, picking out the right hoop can be frustrating. There's two different types of plastic that hoops are made out of, polypropylene and high-density polypropylene. Poly pros are thinner and better for warmer temperatures, they don't warp like HDPE does. HDPE is heavier and better for colder temperature, they don't crack or shatter like poly pro does. A hoop's diameter can either be measured by inner diameter or outer diameter and PopLockandHoopIt measures by OD. Next, is to choose your hoops thickness, which comes in a variety of choices: 1/2", 5/8", 3/4" and 11/16". When you've figured all that out, then you have to decide on what style of hoop you want: natural, bare colored, taped or reflective. Finally, you decide if you want any grip assistance on the inside of your hoop; some prefer gaffer tape, others prefer wax, sanding or nothing at all. Ultimately, picking the right hoop is personal preference, what works best for you might not work the best for anyone else.
The first few hoops I purchased were from PopLockandHoopIt. Danielle was so helpful, quickly answering any questions that I had and when my hoops arrived they were exactly as I expected them to be.
"Need assistance sizing? Please contact with height, body build, current skill level and current size hoop." - Danielle, owner of PopLockandHoopIt
Is it your first time buying a hoop? Beginner hoops are a great way to start! They come woven in gaffer tape and beautiful shiny tape. Beginner and kid's hoops can be found in the same section in this shop. Beginner hoops range in sizes 26"- 38" and kid's hoops can come in any size you'd prefer, all the way up to 44".  
PopLockandHoopIt has an abundance of different hoop options for colored bare poly pro. The Translucent colored, which are slightly see through and UV hoops are black light reactive. When color-shift hoops are hit by different lighting at different angles, the color changes.
Multi-toned collapsible hoops are perfect for any hooper on the go; they break down with the help of push pin connections. They come in many color combinations, anywhere from 2 to 6 pieces. These make any type of traveling with hoops simple, just collapse it down and then they easily fit into your suitcase! 
Taped hoops are either normal poly pro and HDPE hoops surrounded in a gorgeous shiny tape. There's many different taped options in PopLockandHoopIt's shop, all of which are also color-shifting.
Similar to the taped hoops, reflective hoops are surrounded in a gorgeous shiny tape. When reflective hoops are hit directly with any light they are given a glowing effect and most people use the flash on their phone to achieve this. Reflective hoops are not to be confused with LED hoops, they achieve their look from tape and not lights placed inside the hoop. These hoops are a cheaper and light-weight festival alternative to LED hoops!
Minis hoops are anywhere from 17" up to 25" in diameter. Twin hoops are two mini hoops of the exactly same size. Minis and twin hoops are available in natural poly pro, translucent, UV reactive, color-shift and reflective. 
Ready to either add to your hoop collection or start on your flow journey? Check out PopLockandHoopIt's shop here! Happy Hooping!