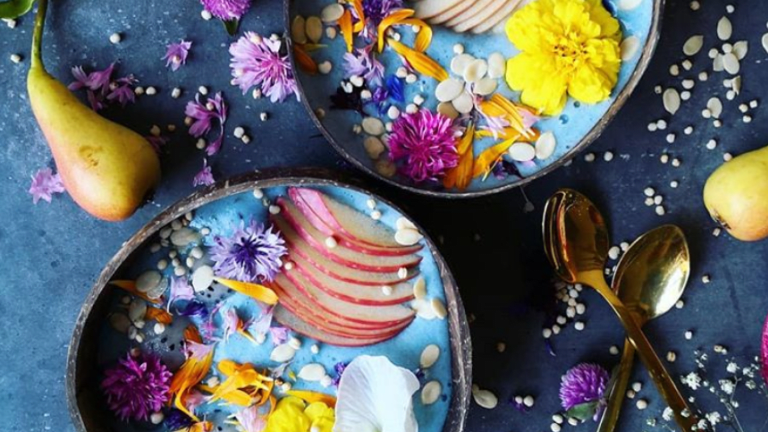 Blue Majik Bowls are the New Acai Bowls
Say goodbye to purple and hello to blue. This new smoothie bowl is the new trend for the wellness world.
Blue Majik is taking the Instagram world by storm amongst Acai bowls. These Smurf blue bowls are blue because of a blue-green algae supplement. Sold in the form of a brightly hued powder and derived from Spirulina (blue-green algae), it  turns the bowls into an eye-popping teal color. With a beautiful presentation and many ways this can be used, it's an easy way to win over fellow foodies.
What are the benefits of eating this delicious treat? Brook Alpert, a registered dietitian and author of The Diet Detox, recently told Fashionista,
"Blue Majik is rich in vitamin B12, vitamin A and iron, which are all part of a balanced and healthy diet. Vitamin B12 is essential for nervous system function and the creation of red blood cells. Vitamin A supports healthy eye function and a healthy immune system. Iron and other minerals help build strong bones and teeth, blood, skin, and hair. Using Blue Majik as a supplement to improve your overall health and bodily function could be beneficial to some."
Vitamin B12 is great especially for vegetarians and vegans who have trouble getting vitamin B12 in their diet as well as being able to have alternatives to protein besides meat and beans. Blue Majik can be used in all types of dishes (besides bowls) like donuts, waffles, energy bars, and even lattes. This versatile food is an easy way to sneak in the extra nutrients without even realizing it. Take the same foods typically seen as fried or unhealthy and with Blue Majik, they can be healthified while retaining the taste.
Think of Blue Majik like the new superfood on the rise. While boasting a host of amino acids and antioxidants, it also contains protein, enzymes, minerals, vitamins A, K, B12, iron and manganese. Do keep in mind some people have experienced side effects such as nausea and fatigue so it is suggested to start off small. Do not consume it if you have any negative reactions to iron or Vitamin B12.  
Recipes:
Want to learn how to prepare a recipe with Blue Majik? Check out some of these fantastic recipes from well-known Instagrammers that have been bringing their A-game to the blue game.
Cashew Dream Bar
Check out this delectable recipe that can be prepared from the comfort of home. Check it out at Wu Haus.
Blue Majik Donuts
Try these donuts! Check this one out at sculptedpilates.
Blue Nicecream
Of course there needs to be a recipe on how to make a smoothie bowl. Courtesy of the_sunkissed_kitchen. Its got frozen bananas blended with some almond milk, bluemajik and vanilla bean topped with freeze dried raspberries currants and dragonfruit balls.  
Feel free to purchase this product online if you feel inspired to try this for yourself!
H/T: The Fashion Spot, the_sunkissed_kitchen, sculptedpilates
Featured Image from the_sunkissed_kitchen