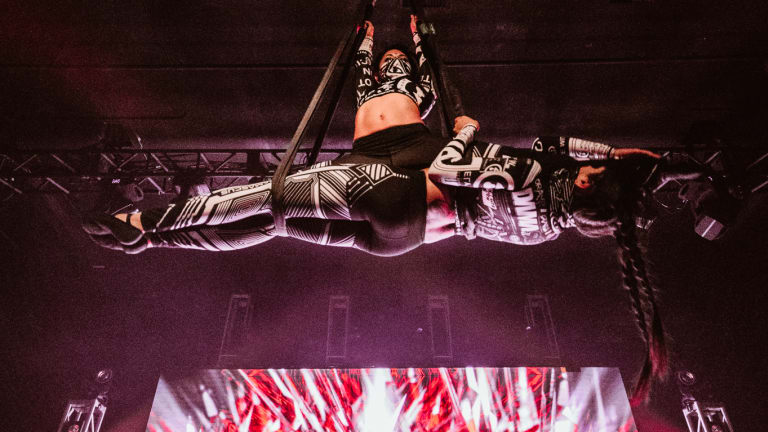 Lina Maria and Hanna Winters: Beyond TroyBoi's Left Is Right Tour
The Siren Society performers Lina Maria and Hanna Winters discuss their hand in the development of TroyBoi's Left Is Right Tour.
My date Martin was Columbian and Mexican. He was a psychologist for foster children. Martin accepted my invitation to TroyBoi's gig at Concord Music Hall in Chicago. This Bumble find was the perfect man, one with machismo, musicality and compassion. I walked past the venue's Cinco De Mayo hallway mural, then stopped. His beaming face emerged from the darkness, once "B.I.A" started playing. While I sipped a glass of stale merlot, two breathtaking women began to fly. 
What is your favorite apparatus?
Lina Maria: The aerial hammock. It's kind of a cross between silks and a lyra. It's very flowy like the lyra, but you can still do a lot of technical moves and choreography like you can do in silks and still be really dynamic.
Hanna Winters: Lina's been teaching me lyra, and I've been really enjoying it. It's a lot less scary than silks for a beginner. You feel like a fairy floating around, making pretty shapes. It's really fun to learn because it makes me feel so strong. You build strength so quickly; I think that's one of my favorite parts.
How do aerialists add value to TroyBoi's live shows?
L: We are creating an experience. Sometimes when you go see a DJ, there's nothing happening on stage. Hearing the music, seeing the visuals, seeing dancers and aerialists in the air, it's more of a show than a DJ set. We are inspiring a lot of young women that want to become dancers because not every person goes to a show like that and is inspired to create music.
H: As performers, we're there to evoke emotion out of the audience. I think that's powerful for a lot of people, and I don't think they really expect that when they come to see our show. We've been pleasantly surprised how people have been reacting to our show and hope that they leave with their minds blown.
Explain The Siren Society
L: We are a group of performers. We have an array of talent, and we've all come together for the same purpose. We are a really big family.
I brought everyone together. I was an instructor at an aerial gym, and there was another group like mine in the Reno, Nev. area. I was a part of this group, and everyone went their own way after the first year I was there. I absorbed their clientele, and there was nothing else like that at the time; I was the only one putting together events and doing shows.
As an instructor, I was seeing mostly women that were incredible. I didn't know it yet, but I started to hone in on helping them with their craft. Then, we absorbed other people along the way, like Hanna. We met her because she was playing violin with TroyBoi, and was like 'Hey, I'm a dancer too.' We started to work together, but most of the girls were my students. We have a few boys that we work with as well.
How do you cross train?
L: I don't do any cross training. When I have time to train, I'm really only doing aerial. I've never went to the gym or done anything like that. I started doing aerial, and I liked it. I don't lift weights or do yoga or go running. I'll do some strength training on the apparatuses.
H: I'm a certified yoga instructor. I do a lot of yoga. I take dance class when I can. I like to train on the silks as well as do lyra. Sometimes, I like to train in pole dancing. I like to go to the gym and do high intensity interval training. I used to lift weights quite a bit, but I find with traveling so much it's hard to keep it consistent. I mostly just keep it to calisthenics. That's pretty much my routine. When I'm back home in Oregon, I go on hikes. I try to be active everyday if I can. Otherwise, I go crazy.
What about flexibility?
L: You're either going to be really flexible or really strong. You cannot be both. There are some people that are flexible and strong. They work pretty much their entire lives to get to that point. We have an contortionist. Her name is Rebecca, and she needed to stop training aerial because she was getting too strong. It was tightening up her muscles, so she couldn't be flexible.
I am really strong. I could base two girls at the same time, but I'm not flexible. It's an illusion. It looks like I'm flexible, but when I'm in the air you have nothing to compare it to. I cannot get into splits; it will take me at least two hours to get warmed up to almost hit the floor.
H: I definitely try to warmup as much as possible. I try to stretch several times a week. Aerialists, when they are starting out, should be stretching everyday because most people don't bend that way.
Flow or choreo?
L: I prefer choreo. I love being in unison with other performers, and hitting those marks feels so good.
There was a portion of "Do You?" on the Mantra Tour, me and Leisha [Love] for the last three seconds, we freestyled.
H: I really like both, but I love choreography so much. I love when people have choreography, and they put it on me. I also love moving in unison with other dancers. It's one of my favorite things, and I think it looks absolutely stunning on stage. I would rather watch three dancers do choreography than watch three dancers improv. I kind of feel the same way about performing, but I also do love improv too because that's where choreography comes from.
The solo piece that I did during TroyBoi's show was completely improvised. The end of "Back To The Wall" has a really pretty piano part that I did a little solo to. Other than that, the whole show is choreographed. 
Dive into the topic of fueling the body with proper nutrition while on the road.
L: It's really difficult. Maybe people have misconceptions that we had a chef on tour with us or something. It's not like that at all. I found it really difficult to maintain health while on tour. It was really hard because the boys would get fast food every night after shows, and a lot of times we were in places where there weren't any restaurants open.
We didn't really have a choice other than eating what was on the bus or eat out. A lot of those options were almost never healthy, like bar food. Every once in awhile we'd get a diner. Tour life is not healthy. There were times on this tour I was stuck rigging for twelve hours, so I would get one meal a day.
H: We had a refrigerator on both the tour buses, so if there was an opportunity to go to a grocery store, I would stock up on stuff. Then, I could make myself a salad if I was in a pinch, just to get greens things in my body. It was challenging because we were driving all night to get to the next venue. Often times, we weren't getting there until noon, and I would be sleeping in super, super late. Then I'd wake up and sometimes find myself only having two meals a day because you're so busy, and it's hard to find good options.
At the beginning of the tour, there was all of this junk food on the rider like Doritos, chips and gummy bears. Then, I asked "Please, can we get some a veggie platter and hummus on our rider? It would make my day." We started getting healthy food on our rider which actually helped. I'd find myself eating veggies, pita and hummus for dinner. We had pita chips and hummus everyday.
What does prepping for Coachella entail?
L: We're hoping to evoke lots of emotion from people, and we are going to be doing a lot of training for it. I'm starting to conceptualize costuming, themes, the apparatuses and choreo. It's going to be quite amazing and a lot of work.
There will be a lot of new music. I know that he's [TroyBoi] working on lots of new stuff, so it's going to be very exciting. I'm sure he's going to keep some of those in the bag, so he can release them then.
H: We can't give away too many secrets yet.
Any last words?
H: It's important for me for people to know just how special this tour was for me and I guess I could say us because there were so many women on tour, and that's not something you see a lot of in the electronic music world these days.
It was a huge honor to be able to represent that, hold it down and to feel from our audience that was inspiring for them. Not only was there the three of us dancing, but I was also playing with the Bohemian Dub Orchestra who you saw on stage. Even our tour managers who have gone on tour with other people will say, "I've never been on a tour bus with anymore than one woman before." There was six or seven of us at any given time.