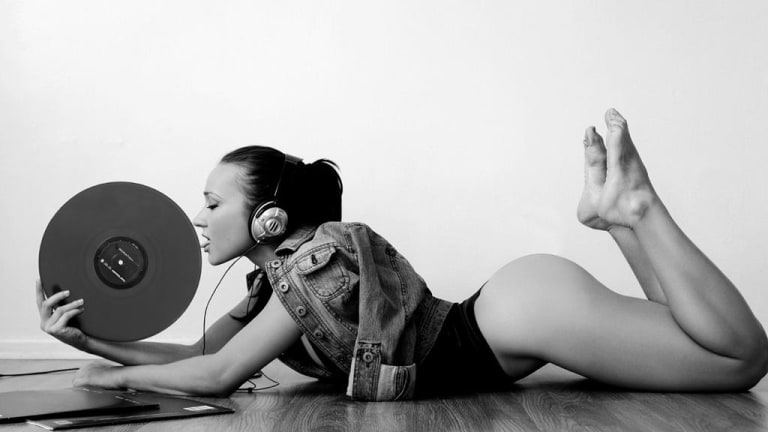 Lauren Pappas: The World's Fittest DJ
Lauren Pappas gives us the inside scoop on how she combines her love for fitness and DJing.
To be a DJ is one thing. To be a fitness competitor is another. If you add actor, tv host, personal trainer, Youtuber and fitness model to that then you have Lauren Pappas. She's a jack of all trades and we got to chat with her on how she combines her love for fitness with music. 
How did you get into fitness?
Basically, I grew up with learning disabilities and I wasn't very athletic growing up. Part of that was that I had learning disabilities and was told by my gym teachers that "I had poor coordination and that I should sit out on the sidelines". My classmates made fun of me cus I wasn't athletic, so I always had this stigma of not being athletic. It got built up over the years and made me resent athleticism. However, there was something secretly in me that wanted me to be athletic. 
When I was 15, I had an epiphany where I decided I wanted to face my fears head on and not have them hold me back. I really hated running and did everything I could to get out of gym class especially when we had to run laps. So I decided to join the Cross-country team. It kicked my ass and I was sore for the first few weeks but I fell in love with it. It boosted my confidence because I did something I thought I couldn't do. Because I overcame my fears it became one of the biggest life lessons for me. That's how I got into my first organized sport. 
At same time my dad got me into the gym and introduced me to weight training. My dad was a nutritionist and owned a health food store, so I automatically had that nutrition background. Through proper nutrition, weight training and cross country I was able to build a physique by accident, I had no intention to do it. I had no concept of body image when I was little, I was always the shortest kid in the class. I worked out because how it made me feel and for the confidence it gave me. My dad also told me how important it is for women to build strong bones through weight training. I've pretty much been working out every day since I was 15 years old, I love it. 
You take DJing out of the club and into gym and sporting events. What made you want to combine fitness and DJing?
Because music moves me. I noticed when I had music on, my workout was on another level. Its the difference from me doing 50 push ups to 100 push ups. If I have the right song on, I can go all day. Its magic to me because I've always been really passionate about music and I thought how can I marry two of my biggest passions together. It happened organically and I noticed how much it inspired me. I thought of how I could share this with the masses and thats how I came up with DJing fitness related events. I wanted to set myself apart from other DJs and other people in the fitness industry so I became a DJ, created a brand, and developed a youtube channel and podcast. 
What kind of music did you listen to while growing up?
It was classic rock because my mom and dad grew up in the 60s, 70s and 80s. At the same time I listened to alternative songs from the 90s because of my older brothers and sisters. I listened to my dad's cassettes, watched MTV, TRL. I was obsessed with music! I went through my dad's old records, went through my sister's cds and cassette tapes. I loved knowing all different genres of music. 
I got introduced to electronic music in the second grade through Daft Punk. I was like "WHAT IS THIS?? DAMNNN!!". So, when I work out that's really what I like to listen to, electronic music. There's lulls and climaxes that make it perfect for interval training, running outside. It just does it for me man. There's something about electronic music that I really vibe with and it creates a community. I really like the energy of EDM. 
What is your setup when you DJ?
I play on Technics SL-1200. I usually use a Pioneer DJM-900NXS. I also can play on CDJs too and there's some clubs I have residencies at that have CDJs. I also use a MacBook PRO computer and I use a pioneer controller when I travel. My preference is on turntables and Technics SL-1200. I love cutting, scratching and mixing. When I saw a DJ for the first time he was scratching and cutting and that's what attracted me to DJing. It then became my mission to learn how DJ.
What is it like DJing at sport events? 
I love to be able to bring the party to that environment where its not exactly expected. There's a lot a excitement at those events, so I like to be the person who sets the tone. That's really powerful. I get a lot of love when I go to those events and I get to show that that's another side of me. I really get to enjoy having those opportunities. There's also nothing like DJing at clubs because people are there for the music. There's more pressure, but its more exciting. 
Being a female in the male dominated DJ industry, what words of empowerment do you have for other female DJs out there? 
Yeah, that's part of the reason I wanted to be a DJ. When I researched DJs, I noticed they were all men historically. Then I was like "Oh, I have to do this!". The challenge was what motivated me. I didn't know of any female DJs at the time and my mentors were all men. I felt like I really had to bring it. I do have to say don't let anything stop you. Anything can be done by any sex, anyone. If you are passionate about something, let it rip. At the end of the day, its about you and what you're passionate about. That's what inspires me in life. 
Who are some of your favorite musicians in EDM and Non-EDM?
Deadmau5. I just signed up for his masterclass to learn producing and that's going to be my next venture. Everything he touches turns to gold. I love Calvin Harris. I listened to him when he was more underground. There's also Fred Falke, he's a French DJ I got to interview. He does the best remixes. As far as Non-EDM, Timbaland, Pharrell is amazing. I love Drake. There's something about EDM that makes it seem more tangible to me. As far as production goes, I would be focusing on electronic music.
What workout routine works best for you when you have a busy schedule?
When I'm on the road, I like to use my bodyweight. Sometimes I'll bring bands, just so I can have a tool incase I'm pressed for time. I like to make the most of my environment. I don't seek out gyms usually. I like to challenge myself and do something different. I actually have a couple of workout videos where I show how I take advantage of my environment. You know, like running stairs, doing a box jump off the park bench, or doing dips and chin ups of the bell hop car. My favorite way to start my day is with a workout. I'll do pilates moves or push ups to start my day.
What is your favorite food?
My favorite food is anything from the earth. As far as nutrition goes, you need to choose what is right for you. What I eat may not work for anybody else. I love vegetables, fruits and meats. I do a ketogenic diet which is higher fat, moderate to high protein, low carb diet. I do that because of the benefits it has on my brain. I found that by gaining control of my brain through diet I had more focus, I was calmer, I was more present. It elevates my mood, and helps me maintain an athletic physique. That's what I did for my first competition. It made me have a ripped physique and allowed me to train harder. 
Do you still compete?
I'm actually going to do a competition this year. That date is not picked. I was very clueless my first time. I did it my way, but it worked out very well. I was faced with a lot of adversity because of the way I dieted. I ate olive oil, eggs, avocado and people freaked out. People thought fat makes you fat. There's a lot of close minded conceptions in the world of bodybuilding. I know my health is the most important thing, so I will do what works for me. Everything I do, I think of my health and longevity. 
You can check out more about Lauren below.
Youtube - Pimpin' Iron