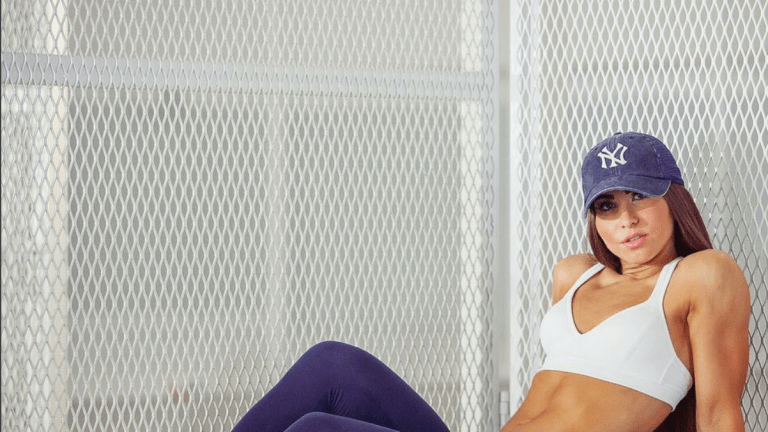 IFBB Bikini Pro Sammy Bornstein: Road to Pro Debut
Sammy Bornstein, one of IFBB's youngest pros, gives us insight into the road to her pro card, training tips and her favorite EDM playlist
When someone says the word pro, especially IFBB Bikini Pro, a 19-year-old college student probably isn't the first thing that comes to mind. If you've met Sammy Bornstein, you'd know that was exactly the case. She is one of the youngest IFBB Bikini pros ever to compete, achieving more in her first year than some competitors will their whole career. Recently I had the privilege of sitting down with Sammy to find out a little more about what's led to her success thus far. Still very humble and approachable, she gave me a unique insight into her life, how she balances everything, and what role EDM plays in her life.
How did you get your start in fitness?
"I was on 3 teams in high school, traveled all around the nation, got hella into the gym and decided college ball wasn't for me."
There were many other people in the industry at her gym that began to ask her about competing, most assuming she was already involved. Eventually, with some encouragement from another bikini competitor, she did her first show.
"I did southern states in July 2016 and won the overall, did another show after that and won the overall again. Then went to my first national show, which was Miami nationals 2016 where I placed fourth. Fast forward to May 2017 I competed at Jr. USA in South Carolina where I placed 2. And 4 weeks later June 19 in Chicago [Jr. Nationals] I won first in my class, earning my pro."
How did you get your first sponsor?
"The owner [of Steel Fit] goes to my home gym. Every time he saw me working out he'd ask me about my next coming show before I even competed. I won my first show, so he saw I had a lot of potential and after my first national show I got sponsored by Steel Fit. And then the following year coming into 2017 I got sponsored by Pro Tan."
What's been your biggest obstacle as a competitor to overcome so far?
"3 weeks in Vegas, I was going to pull out of the show but the last week we were going to decide I dropped a lot of weight. So, I'm sticking it through."
"Mentally during this prep for 3 weeks I saw 0 progress at all, I went backwards. I was doing way more than I was before in previous preps, I was doing so much cardio, my food was almost to the point of like 2 weeks out from a show but I was 8 weeks out. I wasn't seeing any results and I was trying so hard and mentally it just messed with my head. It just sucks when you're giving everything and you're going backwards. Its been rough in terms of how intense I've had to bring down my food and how much cardio, Ive never done this much cardio. All because of my thyroid problem."
Earlier Sammy explained to me an issue she ran into this contest prep. Her body had not been responding to anything. Going to extremes in both diet and cardio, she still saw no progress. Eventually she decided to go to the doctor. It turned out her body had developed a hormone deficiency that was making it virtually impossible to burn off any fat. With her doctors insight she realized that  last year had taken a tole on her body. Winning her first and second show made it hard to want to take a break for her, understandably so. She is ambitious and highly motivated, which is why she so quickly became a pro. But it also led to her keeping her body at a very critical level for an extended length of time. Anyone who's done a competition knows what its like to be show ready and how challenging physically and mentally it is. Especially the last few weeks before a show. Now imagine staying that way for an entire year. Keeping herself in such a condition had led to a regulatory issue with her thyroid.
"I am taking medication now for it and getting my levels balanced back out. The specific hormone that my body was really low in, its your fat burning hormone, regulates your digestion, can't lose weight without it. I was 2.3 the average is 4. So I got prescribed that and Ive been on it for four weeks and I've seen a lot better results. You have to ween off of it and you have to take thyroid support after, you have to always be aware of the issue it can become a lot more serious, it can start to affect my t4." 
"I have to be really conscious of my hormones and my health, not just getting ready for a stage."
Sammy and I discussed a little further how this has served as a learning experience she can use in her career moving forward. Not just as a reminder to herself, but to inform others.
Sammy also went on to explain that outside of her thyroid issue, the biggest obstacle has been adapting her lifestyle.
"When you're on prep its not like you cant live life, like yea you learn other ways to go have fun, you can actually have fun without being intoxicated. Everyone thinks the world revolves around food or alcohol. Its so funny when I go out close to shows. Everyone like you can't eat, you can't drink, what do you do? So, yea that was the hard thing, adapting to prep life, at first at least."
When is your next competition?
"Legends Cup, Las Vegas in February"
Do you design all your workouts?
"I design my whole training plan [my coach] gives me how much cardio to do and he gives me one day off a week."
What kind of program do you follow on prep?
"I work with a lot of supersets and keeping my heart rate high and extra cardio to get that conditioning level. And I incorporate at least one plyo session a week. I try to do like little sessions but at least one full session for 30 minutes."
How much does your training change in the off season?
"I aim more for lower repetitions, higher weight. I stopped squatting all together after my first competition. My quads are huge from soccer. My quads have evolved from my first show so I stopped squatting heavy. I still squat. I just don't squat with the barbell a lot and I wont go above 135."
Favorite cheat?
Burgers and Fries
How do you incorporate EDM into your workouts?
I listen to a lot of EDM when I'm doing cardio. I have 45 minutes of cardio in the morning and 45 minutes post workout. So right now I can either listen to music or watch Netflix. And Idk why I like to listen to music it gets me in my zone. I've found a lot of stuff on Soundcloud.
Favorite EDM artists?
Illenium, Seven Lions, Flume
Been to any festivals?
Ultra
Going to any festivals?
Coachella this year
Pro Debut?
Legends Cup in Las Vegas on February 10
Future plans?
Hopeful for the Arnold this year
Sponsors?
Steel Fit- Discount code sammy11 for 10% off. I use the steel fit BCAA's
Competing isn't the only aspect of her life. She also attends FSU and is an active member in her sorority. Balancing the two has been somewhat of a challenge, but clearly she is up to the task. Sammy will be someone to watch out for in the industry. Achieving so much, so soon, it will be exciting to see what she does with her second year in competition. To follow her journey you can find her on Instagram @sammy.bfit she shares a lot of her training tips there so its definitely worth a follow. To close I asked Sammy one final question.
What would you say is the most important factor for those looking to compete?
"Consitency is key"
Checkout what Sammy works out to below: