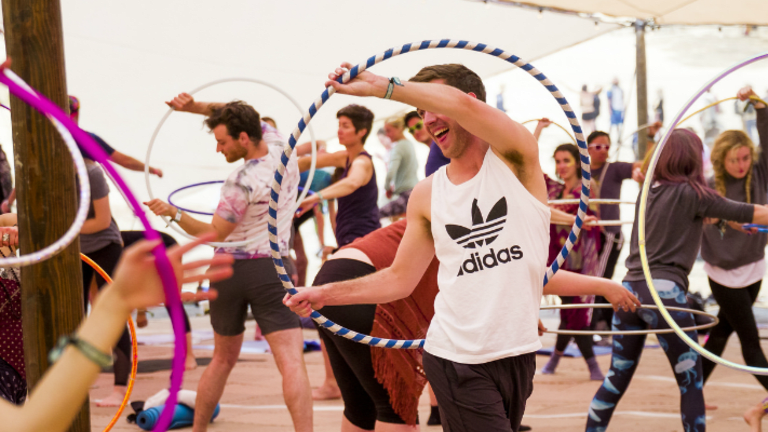 Dirtybird Campout East: 2018 Games & Activities Lineup
Dirtybird Campout East is almost upon us. Here's a reminder to enhance your experience with these mind-body games and activities.
Dirtybird Records and The Do LaB's annual celebration Dirtybird Campout is heading east for the first time ever on Feb. 2-4, 2018 in St. Cloud, Fla. Along with this event's Phase 3 artist announcement including Shiba San, Justin Martin and Barclay Crenshaw, comes a slew of somatic programming, distinctive to not only DBC but DBC East. 
East Exclusives
Alligator Wrestling
Do you dare? You won't leave Dirtybird Campout East without sighting a gator so why not take the experience to the next level and wrestle one! We'll put two alligators head to head for a battle royale. These gators might not look like what you expect, but they might resemble some familiar artist faces. Regardless, they will have the camper spirit!
Ax Throwing + Workshop
If you feel like you're ready to graduate from our archery classes and want to try something more dangerous, we are going to up the ante and invite you to an ax throwing show and workshop. We'll have a maven of danger join us at Campout to show you what it's like to have such swift and deadly skills.
Double Dutch
Jump in on our double dutch workshop and put your coordination to the test! Whether you were a double dutch master back in your recess days or it's your first time trying the ropes, all you really need is good spirit to join in on the fun. Florida's very own Jump4Jax will be turning the ropes and teaching mind-blowing moves and techniques that you can later use on the dance floor.
Hyphy Hula Hoop Championship
Here's a contest that you've been preparing for your entire festival life! Warm up those hips and show us your moves. Keep the groove and don't let the hoop drop. The last hooper spinning will take the hyphiest title of them all. Bring your hula hoop if you have one that will bring you special luck, or choose from one of our colorful hoops.
SuperB Owl Party
There's nowhere else where you can watch the national football game surrounded by your best buddies and favorite Dirtybird DJs. We'll have food, drinks, big screen, music and more at the SuperB Owl Bar!
3-Day Swamp Survival Series
Join survival skill expert Mark Highlove and learn important survival skills that can be used in real- life camp scenarios. No experience is necessary for any phase of this series.
Learning the Ropes: Gain hands-on experience learning and implementing basic knot-tying, while working together as a team to navigate Dirtybird Campout's ropes course.
Wittle Did You Know: In this session we harvest wild wood and practice basic wood carving skills.
Hide in the Swamp: Learn leather working basics while making your own DBC souvenir out of real cowhide.
Campout Favorites 
Color Team field games and tournaments:Put your game face on and get in the spirit of playing classic camp games. Head to the Games Headquarters as soon as you arrive to Campout and get on your color team! From dodgeball to tug-of-war, archery and gator races, you'll be having the time of your life while gaining points for your color team. At the end of Campout, there will be one color team standing and taking the Golden Dirtybird Egg home. Other games will include water balloon toss, kickball and potato sack races. There will be something for everyone!
Costumed Canoe Races
Bring your flashiest costume and hop in our canoes for the wildest race of your life! There will be deep waters, sharp turns, and maybe a gator or two!
Scavenger Hunt
Don't forget your safari hat because if you sign up for our Scavenger Hunt, you might find yourself deep in the jungle or wading through a swamp chasing for gators. Start a team with your squad or make some new friends that will help you check off the most items on the list. Past challenges have included taking a photo with eight garden flamingos, hang your team's underwear from someone's totem in the middle of the full dancefloor, and taping a sign to Claude Vonstroke's back. You'll never know what you'll find yourself doing, but it's all worth it for the grand prize of passes to next year's Dirtybird Campout!
Tie-Dye – * Bring Your Own Tee *
You haven't had the full camp experience until you spend time getting ink, paint and dyes on your hands. Stop by our tie-dye station and leave with a new groovy piece of clothing. Bring any item and turn into your own masterpiece of colors. Spots are limited and fill up quick, so be sure to check times on schedule when you arrive and head over early for a better chance at securing your spot.
Totem Crafting
A festival is nothing without totems! A totem will help you find your friends in the crowd but also tells campers a lot about you. With an eye-catching totem, you'll spark up conversations with your fellow campers and start the dance party right.
Yoga
At Dirtybird Campout we take our quiet zen time just as serious as the music and games. Be sure to get your boost of mojo by taking one of our many yoga class offerings. In just one hour, you'll be warmed up, ready to hit the dance floor and party late into the night.
From acro yoga to gentle vinyasa flow we are bringing some of our favorite instructors from the West Coast and also some Florida star yogis. Attend a morning class on Friday, Saturday and Sunday with Florida's Natalia Rodriguez, Rikki Kamensky, and Allison Gaines. At sunset on Friday and Saturday, catch some air with Dirtybird Campout veteran instructors Yo Yo Yoga ACROVINYASA with Antonella and Jordan. Get a taste and check out the Yo Yo Yoga mix from DBC West 2017 HERE!
More Activities & Games To Explore...
Field Games
Archery
3 Legged Race
Kickball
Volleyball
Bad Minton
Arts & Crafts
Tie Dye
Lanyard Making
Watercolor Painting
Totem Crafting
Mojo Boost
Obstacle Course
Board Games
Competitions
IronBIRD Championships
Connect with Dirtybird: Facebook / Instagram / Twitter / YouTube