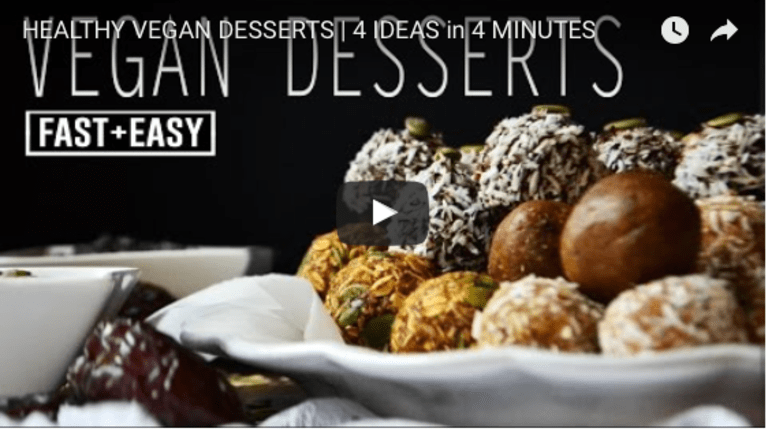 Sunday Sweets Vegan Treats
Dessert Doesn't Have to Be Dangerous
Sunday is sweet and a great day for treats. It doesn't mean you have to blow any diet you're on or load up on processed carbs or sugar. Dessert doesn't have to be dangerous. In fact, the following recipes include ingredients that are good for you. Dates, chia seeds, cacao, coconuts, and almonds are full of vitamins and nutrients. 
For example, Chia seeds have fiber, protein, calcium, magnesium, and phosphorus. They also contain a decent amount of Zinc, Vitamin B3 (Niacin), Potassium, Vitamin B1 (Thiamine) and Vitamin B2.
So if you're looking for deliciousness wrapped in goodness, look no further! 
SO EASY AND SO DELICIOUS. And good for you? Here are four favourite variations on the classic "Bliss Ball" in under 5 minutes. TRY 'EM I DARE YOU.
PUMPKIN PIE BLISS BALL: makes approx. 18
- 1/4 cup pureed pumpkin
- 1/2 cup medjool dates, pitted
- 1/4 cup maple syrup
- 1 Tbsp. chia seeds
- 1 tsp. cinnamon (add more if you like!)
- 1/2 tsp. ground ginger
- 1/4 tsp. ground nutmeg
- pinch of sea salt
- 1/2 cup shredded coconut
- 1 cup rolled oats
- 1 cup pumpkin seeds
Combine all ingredients EXCEPT oats, pumpkin seeds and coconut in a food processor and combine until smooth. Transfer to a separate bowl and add coconut, pumpkin seeds and oats. Mix and then chill the dough for at least 30 min. Once chilled, roll into balls and refrigerate in a sealed container.
If you love these recipes be sure to check out our other Sunday Scrumptious Smoothies
COCONUT LIME BLISS BALL: makes apprx. 18
- 1 1/2 cups medjool dates, pitted
- 1/2 cup cashews
- 1/2 cup almonds
- zest from 1 lime
- juice from 2 small-ish limes
- 1/2 cup shredded coconut (for coating)
Combine dates, nuts, juice and zest in the food processor and blend until mixture starts to clump. Make sure it doesn't get too smooth or else you'll have a nut butter. Transfer mixture to a bowl and chill for at least 30 minutes. Then lay out the shredded coconut on a tray and begin rolling the dough into balls and then coating them in the coconut. Refrigerate in a sealed container.
For the full recipes click here
The great track featured in the video is available for free by Jengi Beats click here to grab it.