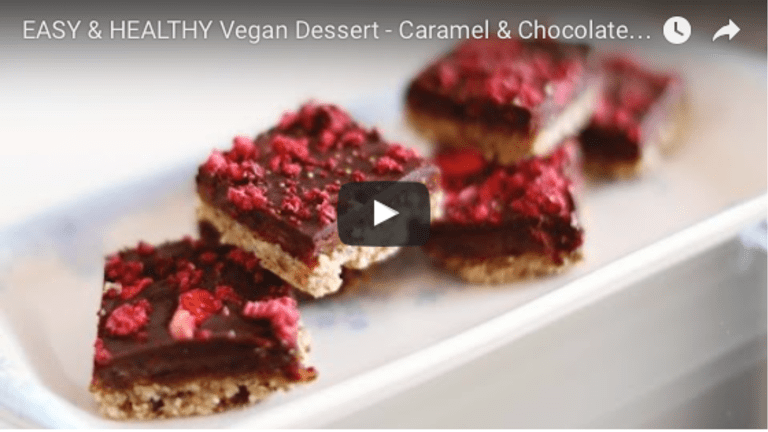 Sunday Sweet Vegan Treat; Delicious Doesn't Have to Be Naughty
Vegan Caramel And Chocolate Slices
Nothing quite spells sinfully delicious like caramel and chocolate. It's true if you look up the ingredients of caramel; sugar, butter, and milk, it's a recipe for disaster. Pure dark chocolate, like cacao, is a superfood. But, if you look at the ingredients in conventional chocolate, you're looking at GMO's, high-fructose corn syrup, partially hydrogenated oils, artificial colors, flavors, and preservatives. 
That's why Sunday's are devoted to bringing you treats that are not only delicious but good for you. Yum!
Vegan Caramel And Chocolate Slices 
Makes about twenty slices
For the Base:
– 1 cup of almonds
– 1 cup of pecans
– 2 cups of dates
– 2 tablespoons of almond butter
For the Caramel Layer:
– 2 cups of dates
– 6 heaped tablespoons of almond butter
– 1/2 a cup of water
– 2 tablespoons of maple syrup
– 1/2 a tablespoon of coconut oil
Be sure to check out our other Sunday Sweets! 
For the Chocolate:
– 1/2 a cup of cacao butter
– 2 tablespoons of raw cacao powder
– 2-4 tablespoons of maple syrup (depends how sweet you like it)
– 2 tablespoons of almond butter
– 1 cup of dates
Start by making the base – simply put the almonds and pecans in a food processor and blend for a minute until a grainy flour forms, then add the dates and almond butter and blend again until the mix becomes sticky. Then place the mix in the bottom of a baking tray, pushing it down firmly with a spoon or spatula before placing the tray in the freezer.
Next make the caramel layer. To do this simply put all the required ingredients into the processor and blend until smooth and creamy, then pour onto the base layer and put the tray back into the freezer for about thirty-forty minutes so that the layer becomes firm enough to pour the chocolate layer onto.
Finally make the chocolate layer. Place the cacao butter in a saucepan and melt on a low heat with the almond butter. Once they've melted pour the liquid into the food processor with the remaining ingredients and then blend until smooth. After the caramel has become solid spread the chocolate layer on top, place the tray back into the freezer and freeze for about two hours before enjoying! If all the slices aren't eaten at once then store in the freezer.
Credit; Deliciously Ella, Amelia Liana and Hippie Lane