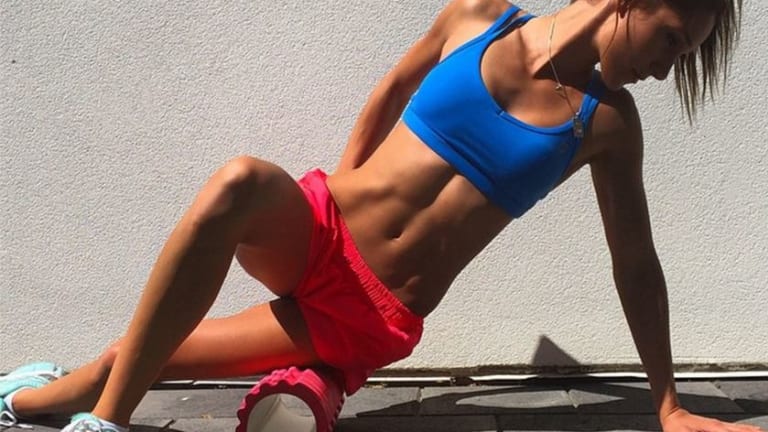 Kayla Itsines; The 24 Year Old Girl With The 28 Minute Workout That Will Change Your Life
Plus Her Top 5 Favorite Workout Tracks
In the world of fitness, there are celebrities, and then there's Kayla Itsines. Kayla at just 24 years old has taken that world by storm. Not just because she's young and beautiful, but because she's given the world something desperately needed. Sweat With Kayla App is designed to help women feel fitter, stronger and more confident.
The 5 million followers on Instagram, 5,940,715 likes on Facebook and 318K followers on Twitter, are proof that her 28 minute program works. Her posts of "before and after" pictures of real members gave her the credibility to grow her business organically to soaring heights. 
We were so pleased when she agreed to be featured here on FitEDM and share her journey, her advice, and the music she loves when she works out. 
          Can you tell us a little about you and your journey so far?
Hi, my name is Kayla Itsines. I'm a 24 year old personal trainer from Adelaide, South Australia. I am the creator of the Bikini Body Training Guide (BBG) and Bikini Body Training Guide 2.0, which I released in 2014. My 28-minute workouts seen in my BBG and now ​Sweat With Kayla A​pp are designed to help women on their health and fitness journey so that they can become fitter, stronger and feel the confidence they deserve. I wanted to provide more for my BBG Community, so after completing my World Bootcamp Tour in 2015, I worked on developing an App. In December 2015, I launched my own fitness App called S​weat With Kayla! Sweat with Kayla i​s the new home for the Bikini Body Guides! Rather than only being a 12 or 24 week workout guide, it now offers a lifetime of training and education to women all over the world.
Do you remember how it all started? What inspired you to pursue a career in fitness?
During school, I always had a passion for playing sports and helping people. This passion led me to study personal training at the A​ustralian Institute of Fitness.​ Shortly after graduating, I started training girls in my own personal training studio and began uploading their inspirational transformations to my Instagram page. Their motivating and relatable transformations drew the attention from girls around the world who were curious about how my clients and I were training. It was my clients that inspired me to continue to grow and learn as they were finally feeling the confidence they deserved. I feel so blessed to be a part of so many women's health and fitness journeys.
Why is your ​SweatWithKaylaA​pp so popular? How is your program different compared to other exercise regimes and fitness guides?
I think my program has received so much positive feedback because the results are from real women who have all achieved REAL results. It's not about a quick fix and it's not a fad. It's a healthy, maintainable lifestyle change that is adaptable and REALISTIC for women of all ages, body shapes and fitness levels. My 28 minute high-intensity resistance training sessions are designed to help girls develop a habit to a healthier, active lifestyle, without having to spend hours a day in the gym. I believe what sets my App apart is the end goal. Rather than being a weight-loss or a muscle-gaining program, it is simply a plan to help women develop this routine to staying active and healthy in order to feel the confidence they deserve.
                      Tell us about your new app!
My app, S​weat with Kayla,​ has been designed to simplify the health and fitness experience for women globally. As well as being the home of the BBG workouts it includes, personalized weekly meal plans, automated shopping lists, educational content and SO much more. It also includes timers, accountability and an amazing personal progress tracking feature. In the most recent update to S​weat With Kayla,​ we have incorporated a weekly planner that allows users to plan their workouts and more, two weeks in advance! My App is available to women worldwide, it's a tool they can use daily - a personal trainer in their pocket!
Can you explain the "Kayla Effect"? What is it about you that makes people connect with you so easily?
I've always been 100% honest and open on my social media account. I also don't believe the amount of followers you have on social media defines if you are a 'celebrity' or not. I'm just a normal girl that has been blessed with the most incredible opportunity to help women work towards being better, fitter and stronger versions of themselves daily. I believe it's not about the number of followers you have, but what you can do to help and make a positive impact on the lives of the followers you do have that is important.
Work hard for what YOU believe in and do what makes YOU happy, be authentic and stick to your morals. I think that's why people feel so relaxed when they do meet me in real life because what I post on my Instagram IS me. So when I meet new people they're not shocked by anything, because I have already spoken about it online.
Which foods should we avoid and what should we add to our daily diet?
The nutrition guidelines outlined in my App focus on eating a healthy balanced diet consisting of foods from all the five food groups. All bodies are different and I personally believe it's really important to listen to your own body when it comes to what foods you eat. This could be allergies or quite simply, personal preference, which is why I offer gluten-free, vegetarian and vegan meals as well as simple ingredient substitutions throughout my App. I don't recommend skipping meals or cutting certain food groups. A personal mission of mine is to show women that a healthy diet does not mean you need to restrict your eating and cut out entire food groups. The great thing about healthy eating is that there is SO much variety, and it still tastes delicious!
                      How do you train? Do you follow a set routine?
I train exactly like my amazing BBG Girls – by following the workouts in my S​weat With Kayla​ App! My training method consists of 28-minutes of resistance training, which are only 2% of your day. I do 3-4 of these training sessions per week and also do HIIT (High Intensity Interval Training) and LISS (Low Intensity Steady State) training sessions on other days. My favorite form of LISS training is taking my dogs, Ace and TJ for a walk. I also try to include one full rehabilitation session (stretching and foam rolling) a week to help prevent injury and reduce post-workout muscle soreness.
                                   What motivates you?
My amazing BBG Girls are my motivation. Their amazing transformations and ongoing encouragement motivate me to continually provide health and fitness education to women all across the world daily. These incredible women are SO dedicated and have put in so much hard work to feel fit, strong and confident, which inspires me to be the best version of m​yself​ every single day. I feel blessed to be a part of such a positive community of women.
How does Instagram (and other social media) have a positive effect on your business?
I believe social media is a fundamental aspect to any business. For me, my social pages are amazing plaforms where I can motivate, educate and inspire my BBG community. I think my Instagram profile has an honest and upliting community vibe about it. Instead of being focused entirely on me, I've based it on the results of others, whose hard work should definitely be celebrated! I love that all of my clients are all real women with unique stories, who are all working hard to achieve their goals.
What are your recommendations for anyone wanting to begin their health and fitness journey but not sure where to start?
My top three recommendations for anyone starting their own health and fitness journey:
1. Take a progress photo and be your OWN motivation! Progress photos are amazing so that you can see your own personal progress from all of your hard work, dedication and sweat.
2. Set yourself realistic goals and a realistic timeframe. Developing new habits can take time so be realistic and kind to yourself.
3. Team up with a workout buddy. Find a friend so you can motivate and push each other on your health and fitness journeys.
                      Kayla Itsines High-Intensity Top 5