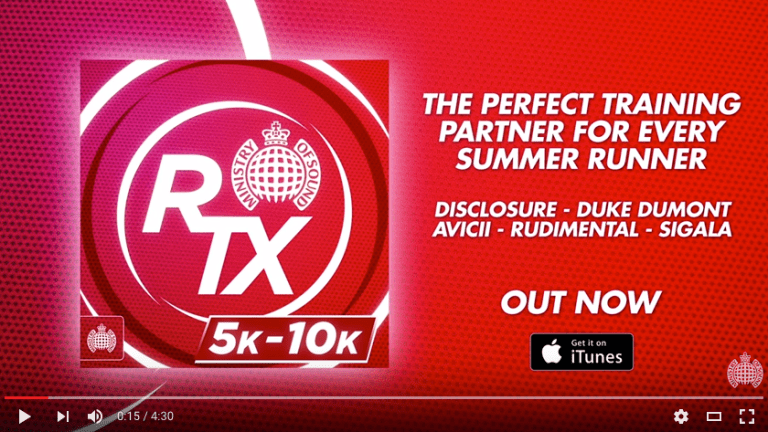 The Perfect Running Partner
Ministry Of Sound Presents Running Trax
Right in time for summer! 
A perfect collaboration between FitEDM and Ministry of Sound is in store for you right here. We bring to you fresh off the heels of their huge success of Running Trax 2016, mid to high-intensity Running Trax 5K-10K. The perfect soundtrack to run to. We love Ministry of Sound as an innovator in the house music world and now as the perfect brand to soundtrack fitness.
Ministry of Sound has been a staple in the EDM world since it's inception in 1991. Its aim was to create the first club in London, inspired by the American house music scene of the 80's. 
With opening sets from the legends of house music, DJs Larry Levan, David Morales, Roger Sanchez and Tony Humphries, Ministry of Sound grew as a clubbing venue. It now attracts around 300,000 clubbers per year. The nightclub was recently ranked seventh in the 2013 DJ Magazine top 100 clubs poll and has won the IDMA 'World's Best Sound System' award four years in a row. 
Over the years, this club has been host to illustrious promotions such as Sessions, Global Underground and Toolroom Knights, has released countess seminal mix compilations and sees the world's most celebrated DJs, old and new, pass through its doors every weekend.
Ministry of Sound are back to continue their flagship fitness brand with Running Trax 5K-10K. As the experts of curating the best bespoke mixes, Ministry of Sound are set to fully takeover the fitness and workout scene. Prepare for the greatest goal smashing compilation yet, with four expertly tailored mixes. This is the perfect training partner for all aspiring runners, with their eyes squarely fixed on that 5K/10K finish line.
For more excellent soundtracks on FitEDM all you have to do is click here
As the gold-standard achievement in running, expect only the gold-standard artists in dance. Landing on the 15 April, Running Trax boasts a turbo-charged arsenal with Avicii, Disclosure and Duke Dumont. With Avicii, Sigala and DJ Snake leading from the starting line, Running Trax has everything in dance music to relentlessly train up and go the distance.
To guarantee a record-breaking running season for both new and established fitness fanatics alike, Ministry of Sound provide 4 exclusive mixes. Taking your feet through a Warm Up, a half hour 5K mix, a one hour 10K mix, before taking the pace down with the concluding Cool Down mix.
From an unparalleled compilation, become an un-rivalled runner with Running Trax 5K-10K.