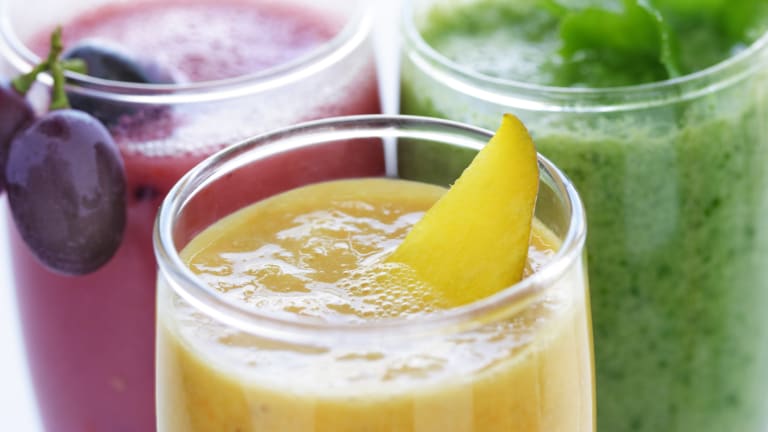 Sunday Scrumptious Smoothies
3 Quick And Healthy Smoothie Recipes
Smoothies can be a healthy meal replacement. Lately, the rumor mill is trying to give smoothies a bad rap. But just like everything else, moderation is key. Smoothies are a great way to get more greens and fiber into your diet. The key is not to overload on sugar. To use organic fresh ingredients and not to use too much fruit that has a high sugar content. You can always add water or ice to dilute your smoothie. You never want to add sugar to a smoothie. There's absolutely no need whatsoever. Half a green apple, a carrot or a banana, all of these have enough sugar to give you the sweetness you'd want for your smoothie. 
Store bought smoothies may not be your best option. Those can pack up to 58 grams of sugar. Which is the tricky part about smoothies. Like anything, smoothies in moderation can be a great convenient way to get your servings of greens. Adding a small bit of fruit to get some sweetness for a delicious treat. Here's a great video to give you an example. 
Pineapple Green Smoothie recipe from Dr Joanna - Vitamix Australia
Pineapple Green Smoothie recipe from Dr Joanna, made in the Vitamix. Combines crisp lettuce, broccoli, cucumber, celery, frozen pineapple, apple, and banana. Fresh, creamy, healthy and delicious!
The best blender hands down is the Vitamix. But it doesn't mean other blenders aren't capable. The Nutribullet is quick, convenient and gets the job done. There's many other good blenders out there. Here's a couple of other smoothie recipes we think you'll enjoy.
Banana Ginger Smoothie 
Soothe digestion, heartburn, nausea, and other stomach trouble with the fresh ginger in this natural remedy smoothie recipe.SERVINGS: 21 banana, sliced
¾ c (6 oz) vanilla yogurt
1 Tbsp honey
½ tsp freshly grated ginger
COMBINE the banana, yogurt, honey, and ginger. Blend until smooth.
NUTRITION (per serving) 157 cals, 1 g fat, 0.8 g sat fat, 57 mg sodium, 34 g carbs, 28 g sugars, 1.5 g fiber, 5 g protein
Orange Dream Creamsicle
Need to cool down after a tough workout or a hot day at the beach? Lap up this low-cal, citrus-infused healthy smoothie recipe.
SERVINGS: 1
1 navel orange, peeled
¼ c fat-free half-and-half or fat-free yogurt (dairy free options are available) 
2 Tbsp frozen orange juice concentrate
¼ tsp vanilla extract
4 ice cubes
COMBINE the orange, half-and-half or yogurt, orange juice concentrate, vanilla, and ice cubes. Process until smooth.
NUTRITION (per serving) 160 cal, 3 g pro, 36 g carb, 3 g fiber, 28 g sugars, 1 g fat, 0.5 g sat fat, 60 mg sodium