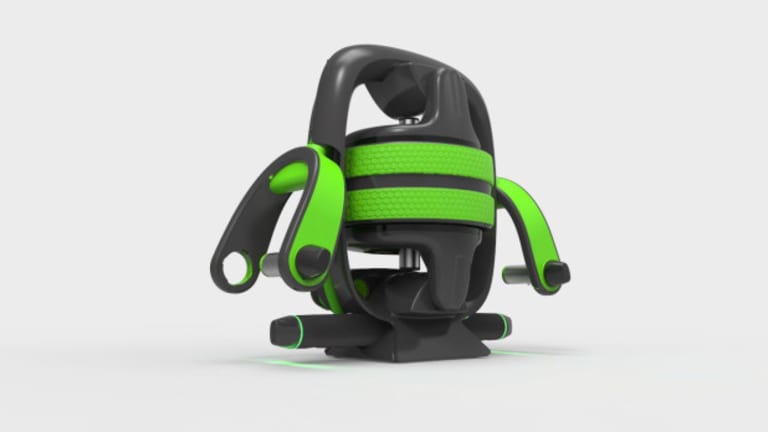 Move It-Smart Mobile Gym To Go
All In One- App, Gym, Trainer
In today's world of gadgets and smartphones, it's getting more and more difficult to have an excuse not to workout. We live in a portable world, with handheld devices and wearable technologies. Whether you're too busy to get to the gym, or you don't have room for one in your home, Move It, is set to take center stage and solve these problems too. This portable all-in-one gym fits in a duffle bag to go to work with you, or you can store it under your bed. Move It has 4 separate pieces of training equipment to target your cardio and muscle endurance training. 
Move It is a smart evolutionary personal gym that connects you to a social platform to track, explore and share your training progress online.
Move It is an effective all-in-one fitness equipment that provides you with the necessary tools for cardio and muscle endurance training.
Move It is about connecting people, getting each other motivated and growing healthier together.
If This product sounds amazing you should click here for our other great discoveries.
The heart of Move It are in the handles. 3D Gyro Sensors, Pressure Sensors, Radio Frequency Sensors and Infrared Sensors are housed within a ridged aluminum frame. The handles are modular, with a common adapter that plugs into all of Move It's workout equipment. 
Modular Connection
The smart handles are interchangeable, with a common socket adapter that plugs into all of Move It's equipment for a flexible workout.
Real-time Synchronisation
Paired with our Move It App, your exercise data will be synchronised in real-time to provide you with immediate visual feedback.
Bluetooth Connectivity
The handles are Bluetooth v4.0, providing you with better battery efficiency and a more reliable connection so you will never miss a rep!
Battery Saving Mode
We understand that being tethered to a charging cable is very intrusive, so we've programmed an auto power saving mode so you can keep Moving It, even longer!
LED Indication
At the end of the handles houses a ring of LED that lights up with various colours and patterns to keep you informed about its status.
Extended Devices
In the future, our smart handle may expand to support even more fitness equipment, so stay tuned!
To read more about Move It just click here.