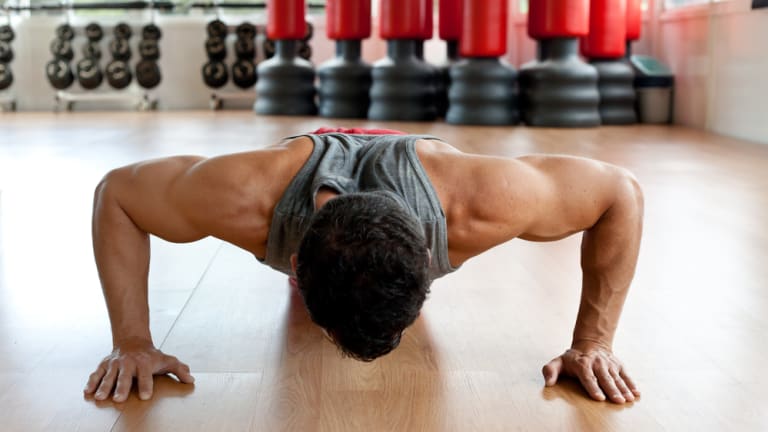 Motivational Man-Day Monday
5 Incredible Men To Inspire You To Be Your Best
Monday is Man-day and we're excited to share with you these 5 motivational role models. Here at FitEDM, fitness isn't just about working out. It's about implementing all aspects of health and wellness into your life, to make you, the best you ever. EDM is powerful music to soundtrack your workouts. But, we're also concerned about the health of other areas in your life, including the planet. 
This week's Motivational 5, we find a semi-retired professional wrestler turned Mega Block Buster Superstar, The Rock. Tony Robbins, a leader in motivational speaking who's worked tirelessly to inspire millions to become "fit" empowered leaders. Lewis Howes went from professional football player to broke and now inspires financial "fitness". 
And two incredible health and fitness coaches Dr. John Berardi and Jessie Pavelka. 
Read on...
Dwayne "The Rock" Johnson
Dwayne Douglas Johnson (born May 2, 1972), also known by his ring name The Rock, is an American and Canadian actor, producer and semi-retired professional wrestler, signed with WWE. Johnson was a college football player for the University of Miami, winning a national championship on the 1991 Miami Hurricanes football team. He later played for the Calgary Stampeders in the Canadian Football League, and was cut two months into the 1995 season. This led him to become a professional wrestler like his grandfather, Peter Maivia, and his father, Rocky Johnson (from whom he also inherited his Canadian citizenship).
Originally billed as "Rocky Maivia", he gained mainstream fame in the World Wrestling Federation (WWF/E) from 1997 to 2004 as a major figure in the company's Attitude Era, and was the first third-generation wrestler in the company's history. He returned to wrestling part-time for WWE from 2011 to 2013 and continues to make sporadic non-wrestling appearances for the company. As of April 2016, he has had 17 championship reigns in WWE, including 10 as a world champion, winning the WWF/E Championship eight times and the WCW/World Championship twice. He won the Intercontinental Championship twice and the WWF Tag Team Championship five times. He is the sixth Triple Crown Champion in WWE history, and won the 2000 Royal Rumble.
To follow Dwayne "The Rock Johnson" click here
Antony "Tony" Robbins
Tony Robbins is an entrepreneur, best-selling author, philanthropist and the nation's #1 Life and Business Strategist. A recognized authority on the psychology of leadership, negotiations and organizational turnaround, he has served as an advisor to leaders around the world for more than 38 years. Author of five internationally bestselling books, including the recent New York Times #1 best-seller MONEY: MASTER THE GAME, Mr. Robbins has empowered more than 50 million people from 100 countries through his audio, video and life training programs. He created the #1 personal and professional development program of all time, and more than 4 million people have attended his live seminars.
Robbins is the chairman of a holding company comprised of more than a dozen privately held businesses with combined sales exceeding $5 billion a year. He has been honored by Accenture as one of the "Top 50 Business Intellectuals in the World"; by Harvard Business Press as one of the "Top 200 Business Gurus"; and by American Express as one of the "Top Six Business Leaders in the World" to coach its entrepreneurial clients. Fortune's recent cover article named him the "CEO Whisperer," and he was most recently named in the top 50 of Worth Magazine's 100 most powerful people in global finance.
In his mission to continually impact the lives of millions, Robbins has made headlines by partnering and lending his voice to disruptive companies in the financial services arena.
To read more about Tony Robbins click here
Lewis Howes
ABOUT LEWIS
Hi there. My name is Lewis and I want to get real with you for a minute.
I've always dreamed big, strived for greatness and deeply cared about people.
My dream growing up was to be a professional athlete and be an Olympian. After getting injured while playing professional football, I immediately thought about how to achieve the next dream.
Broken, broke, and clueless on how to make money or get a career, my obsession for learning about business, marketing, and adding value to influential people (when I had no value to give) began. Since then it's been a powerful journey for me – becoming a New York Times Bestseller, building up a multi-million dollar online media company, speaking all over the world, advising for billion dollar brands, receiving media praise from places like Details Magazine, being one of "5 Internet Gurus Who Can Make You Rich" and much more.
I'm a firm believer that how you feel every moment is more important than what you do or what you have. I got a taste of being a pro athlete for a short amount of time. Knowing what is possible in life when I commit to my vision and pursue it with 100% passion… anything is possible.
to read more about Lewis Howes click here
Dr. John Berardi
I've devoted my entire career to making health and fitness something that's achievable and attainable for every type of person, from every walk of life. It doesn't matter if you were born an athlete - or you were born without an exercise-loving bone in your body - health and fitness is your birthright. And I'm here to help you discover that, with the help of the Precision Nutrition team.
Since 2000, our world-class, multidisciplinary team of counselors, doctors, exercise specialists, naturopaths, and nutritionists have coached and mentored more than 200,000 people in nearly 100 countries through our research programs, professional education courses, and personal coaching groups.
In our coaching program, we'll personally work with you to help improve your health and get you into the best shape of your life. In working with others like you, we've generated world-recognized research that's changing the way fitness and nutrition is taught today. In fact, many believe we're the largest private nutrition research group in the world.
To spread the word, we also offer a professional certification. Through this program, we teach elite health and fitness professionals (like doctors, nutritionists, physical therapists, and personal trainers) how to use the latest in nutrition knowledge in their own practice. To help change the lives of their patients and clients.
To read more on Dr. John Berardi click here
These aren't in any particular order, but you definitely wouldn't want to miss Jessie Pavelka!
As an internationally recognized fitness expert for over 10 years, Jessie Pavelka has an impressive track record helping others develop practical solutions to lose weight and live a healthy lifestyle. As a trainer on NBCs Biggest Loser USA Jessie was able to motivate individuals on his team to peel away the layers and get to the core and understand their why. In the U.K. he starred on Sky TV's "Obese: A Year to Save My Life" as well as "Fat: The Fight of My Life," (both which still air regularly) helping overweight women and men dramatically improve their health and their lives. He also trained the masses on NBCs Meredith Vieiras Show and ITV Daybreaks "Motivation Nation. In January and June 2015 he headed the Sugar Free campaign on Good Morning Britain. In the U.S., Pavelka was the featured trainer on Lifetime's "DietTribe" and hosted a series of exercise programs on OWN called "Wake Up Workout with Gaiam.
Hope you enjoyed this weeks "Motivational Monday", to check out our other superstar motivational role models click here