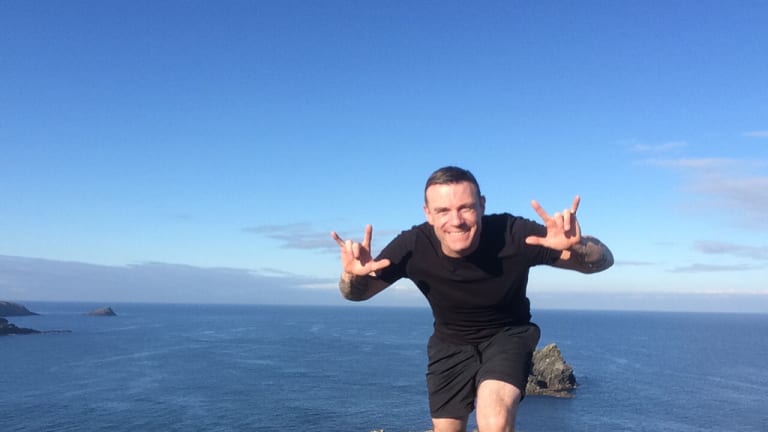 Monday is "Man-Day" With The Fittest Men On Earth!
Exclusive Interview With Super Hot And Sexy, Super Star DJ/Producer And Wellness Coach, Fran Cosgrove Of The Futuristic Polar Bears
In our quest to bring you all things related to fitness and it's perfect marriage to EDM, we really didn't have to look too far.  You may wonder what this super star DJ/Producer has to do with fitness? But Fran Cosgrove from The Futuristic Polar Bears is no stranger to it. Fran's story is inspiring. It's obvious he knows a lot about health and wellness. He's gone from the depths of debauchery, which can be a consequence of working in the night life. To rising high above and living to tell this deeply personal story. 
How did you get into the heath world? Was there a pivotal moment?
I starting training when I was very young, 5 years old in fact. My Dad took me to a karate school and I loved it and I trained there until I was 14. I also started in the gym, lifting weights when I was 12, again training with my Dad. I have trained most of my life since then. I figured out quite quickly that training actually made me feel happy and have always found that whenever I cut back, or stopped training altogether, it led to the low points in my life. In the last 6 years, I have become incredibly healthy and have completely re-educated myself in all aspects of nutrition and health.
When I look back, it's obvious that there were some pivotal moments; one that springs to mind was an incident that occurred when I was 18. At that time, I had been going to a lot of raves, and was in college studying music and sound engineering, whilst at the same time working every day on my DJing skills and building club/part nights I was putting on in Dublin, my hometown.
One night while I was waiting to get into a club with my girlfriend at the time, the doorman who was a bodybuilder was chatting her up and slagging me off for being too skinny. He laughed and asked her why she was with a skinny wreck (his opinion of me) when she could have anyone she wanted.
I had stopped training for over a year at that point, I wasn't eating properly and chasing from one thing to another, and you know what, he was right; I had become very skinny. His comments affected me so much, that the next morning I decided that I was going to get HUGE and become a doorman myself which makes me laugh thinking about it now, but it was that simple, I was on a mission to make people feel good about themselves especially when they went clubbing.
That was a massive turning point for me, I hit the gym the next day, I trained every single day for two years and got in great shape and believe it or not went on to be head of security for several famous clubs when I moved to the UK two years later. My success in this field always stemmed from the idea of making a connection with people and making them feel good.
I was in fact, head of security for Paul Oakenfold and Darren Hughes' (Cream) new club called Home, when it opened in London and I have to say that it was one of the greatest experiences of my life. Just imagine it, as an aspiring DJ and producer, watching the greatest DJs in the world performing week in week out; words cannot describe it. From Paul Van Dyk to Carl Cox, Danny Tenaglia to Felix Da House Cat, even Steve Lawler was resident on a Thursday night.
I went on to own my own clubs and even travelled around the world doing security for famous bands and singers, none of which might ever have happened had I had not had that run in with the doorman when I was just 18 years old.
As you can probably imagine I like most people beginning made every mistake in the book when I started training properly. Eating shit, taking loads of useless products, even making myself sick at one point because of processed fatty pre-made meals that I thought were helping me gain weight and build muscle.
There was another, more recent pivotal point for me, when 5 years ago I ended up becoming bankrupt. I had been partying really heavily burning the candle and both ends, work had dried up, I couldn't get any shows I felt lost and then again made the fatal mistake and stopped training and started eating to numb the pain. I would get through two pizzas, two or three tubs of ice-cream, six bags of crisps every day. Then one morning, 6 months later I woke up really fat, four and a half stone overweight, on anti-depressants and the most miserable I had ever been.
There has been so much talk about depression on social media over the last year and having experienced it first hand, I know only too well how it can close you off from the power you have to change your life. Finally, on this one morning, I thought that's it, what's the point in going on. I believed I had failed in every area of my life.
I was standing in my kitchen, when I just leaned against the wall slid onto my knees on the floor, I was in so much pain, I just knew I couldn't take anymore. Right there and then I decided that I was going to change my life.
If you like what you're reading be sure to check out our other Man-Day Faves!
The next day I started studying life, food, health anything that I could use to help me turn my life around. That same day I had my first run for a year. I had only gone 50 feet and I was out of breath and unable to take even one more step. Scary how quick your fitness can be lost when you are treating your body like shit.
I lost 5 stone over the next 6 months, running, cycling, eating a super-clean diet of vegetables, superfoods, and for the first time cut out all red meat and processed meats, and I stopped drinking alcohol. Then I kept losing weight and getting fitter again. A year later I was doing 10-mile runs like I was standing still relaxing - an amazing feeling
The dark and painful world of depression and being overweight seems like a world away from my healthy life now, where every choice I make with food, exercise and career is to add more value to my life, and help create the energy I need to achieve my dreams.
I get to travel around the world to some of the most beautiful and interesting countries in the world playing music to people who are enjoying themselves – I love what I do
 What motivates you or who inspires you? Or, who is your greatest inspiration?
I have a vision of my future that burns so brightly that I can reach out and touch it. I want to spend the rest of my life making music, travelling the world DJing, and adding value to other people's lives through the music we make and the shows we put on.
I have also written a book about turning my life around and I want to share it with the world too. I love being well, I love being healthy and it seems to me that far too much emphasis is focused on the financial side of being wealthy while the amazing benefits of a truly healthy mind and body are often overlooked. Look at the recent Avicii story; it seems incredible to have the worldwide success and wealth Avicii has built over the last 7 or 8 years but in recent news it sounds like it literally put his life in grave danger.
For me being successful starts with being well, being healthy, believing in yourself and your dreams, yet still having a balance and connection to the reason why we what to be successful in the first place - to be happy. Obviously, after making so many mistakes myself I feel very lucky to be in such a positive and healthy frame of mind - I have massive gratitude for it every single day
My kids inspire me so much now, I know that I want to be healthy, fit, strong and happy as they grow up and I will never let anything get in the way of that again. I want to be the best role model that they'll ever have and that means making good choices in my own life.
Also, as Futuristic Polar Bears continue to grow, we are spending more and more time on the road, so I am doing it the right way this time. No partying, no all-night drinking sessions. I just love playing music and that is now my drug.
I love DJing so much more now than I did in the past when I used to drink every time I stepped behind the decks.
I can connect with the crowd so much better than ever before, and after our sets, I mostly go back to the hotel, meditate and think about how I can improve and get better in the future.
Do you have a certain diet, tip or advice?
I have been following a fully organic-based diet for the last three years and I have been eating a fully plant-based diet for the last 5 months.
My main tip is to eat organic, eat more vegetables, try different things and listen to your body. It will let you know how it feels.
Eat smaller meals, more regularly throughout the day, instead of stuffing too much in your belly at one sitting.
If you're eating the right foods, your body will work better, your energy will be high and you will have an overall feeling of wellbeing take over your life.
The main things to watch is sugar, artificial sweeteners, heavy processed foods, growth hormones and antibiotic pumped meats and dairy food – they have such a negative cumulative effect on your health
What is your daily workout routine?
I get up 4.30am most mornings, go straight to the gym for an hour to lift weights (I break body parts up over 5 days usually) then I go for a run, normally 5 miles, before meditating for 30 minutes and finally doing 15 to 20 minutes of core exercises.
I train in every country we visit, even when getting off long haul flight across the world, I drop my bag in my room and hit the gym straight away.
I usually met some very cool people on our travels and lots of them in gyms.
I also love doing Ju-Jitsu and Yoga
Greatest health tip you ever got or know?
The greatest health tip I have ever been given was to train for the future, not the weekend.
Create a vision of where you want to be, then ask yourself if I was there now how would I think, how would I eat, how would I train.
Train hard, keep learning, keep an open mind and remember train for life – that's how you get the best results.
You don't have to be a bodybuilder to benefit from resistance and weight training, or eating a healthy diet, the more you train the better you feel, and same goes for your body the more organic health food you eat the better your body will work.
It's simple - the most important relationship you will ever have in your life will be with yourself, and the choices you make will affect every other aspect of your journey
It doesn't matter where you are right now, it's where you will be in 6 months, 1 year, 3 years, or 10 years that will matter, so never stop working at it.
Is there something you know now, that you didn't know before that has changed your life?
Learning to breathe properly; I spend more time concentrating on my breathing and allowing in the oxygen my body needs. Stopping several times during your day, to take deep breaths in through your nose and out through your mouth, it can make a massive difference to your health and well-being.
Secondly, and I think this is very important to keep in mind for anyone getting into training, a lot of muscle building supplements are shit; full of artificial sweeteners, sugars, bulking agents that are bad for your health. Learn to read and understand what the ingredients are telling you about a product before you take it and that goes for all food as well.
I am not a bodybuilder or athlete so when people ask me why I spend so much time learning about health/fitness and food and nutrition my simple answer is this - I am 38 years old right now and I have more energy than I did in my early twenties, but here the most important point that always drive this home, 5 years ago when I was sick, overweight and on anti-depressants I felt like I was 60. After 5 years of looking after myself and making great choices, the world is again at my fingertips. .
How did you get into life coaching?
I got into Life Coaching after I decided to change my life. I had 5 Life Coaching sessions myself and they changed my life. I knew then I wanted to know more and began to study and eventually became a master practitioner of NLP.
I now work with clients all over the world from as far as United States, Mexico, Dubai, Australia, United Kingdom, Spain, and Ireland. I have clients in the music industry, Television and radio, Athletes from many different sports and a huge range of businesses from around the world too. I love helping people add value to their lives and careers.
When someone asks me what I do for a living, I kind of laugh to myself and then tell them I follow my passions, and because of that I can't even remember what it is like to have a job.
I love what I do so much, every day I am excited to get out of bed and start the day ahead.
When you were younger, could you ever imagine taking such a health-conscious approach to life?
Quite simply, no, is the answer to that question. When I was young I never thought about the future, I made some very risky and silly decisions with my health and life.
I think that is changing now, though. More and more young people are becoming aware of the benefits of a healthy life. Being healthy is the new 'being fucked' that my generation lived through.
People still love to party but lots of people are waking up the idea that the balance needs to be right, or the price can be severe.
How does your lifestyle impact the music you make with Futuristic Polar Bears?
We are all very healthy now, and it definitely impacts our music, as we are always working to our full capabilities
Back in the day, you would cane it all weekend, then waste two or three days recovering, your creativity would be in the toilet.
Now, every day is full steam ahead, deeply connected to our full inspiration and motivated to keep working hard to fulfil our dream of being one of the biggest DJ producers in the world.
People laugh when I say that, but others have done it before, so there is no reason we can't as well.
Every day that we are in the studio making music, we have a chance at striking gold.
Once you have a dream, once you keep working on it and never give up, you are in with a shot of making that dream a reality - that's what I know
and last, what kind of tracks are you working out to?
Most of the time when I am running or training I am listening to audio programs learning new and exciting information, I also love to listen to other artists' podcasts, getting inspiration for tracks and different vibes - I love such a wide range of music. The only thing I don't listen to is our music, that's just because I think you need to listen to new ideas to grow as an artist.
MATTN & Futuristic Polar Bears – Café Del Mar 2016 is out now: https://lnk.to/CafeDelMarDVLMMixes
https://soundcloud.com/dimitrivegasandlikemike/mattn-futuristic-polar-bears-cafe-del-mar-2016-dimitri-vegas-like-mike-edit-teaser
https://www.facebook.com/futuristicpolarbears
https://twitter.com/FPBofficial
https://soundcloud.com/futuristicpolarbears