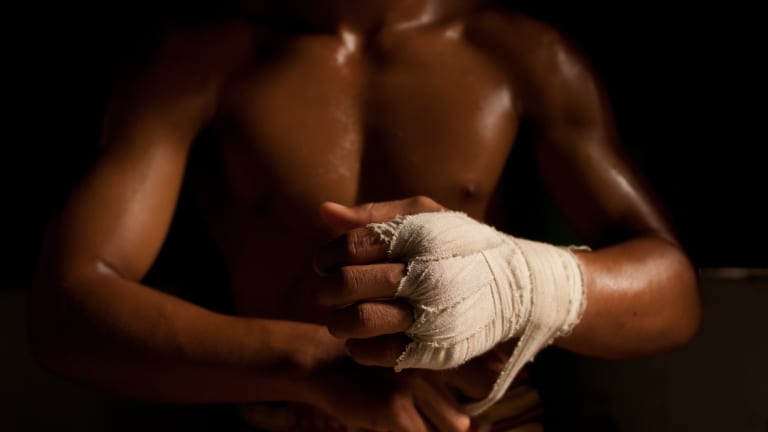 Man-Day Monday Five; 5 Fittest Men On Planet Earth
Five Men To Motivate Your Monday
With the success of Fitness Friday Five going so well with the females, I thought I'd give Monday to the men. After all, there are so many great contenders in both genders, they each deserved to have their own day. It's hard to know where to start because there're so many great choices. Featuring Fran Cosgrove today and his exclusive interview for us was especially mind blowing. His deeply personal story really touched me and I immediately got the new Futuristic Polar Bears single to blast at my next workout. 
Here's today's Monday Man-Day Five, to inspire you to be the best you ever! 
Bob Harper 
Harper has worked as a personal trainer for celebrity clients, including Jennifer Jason Leigh. In 1999, he was cast as an extra in Melissa Etheridge's hit video for the song "Angels Would Fall" from her album Breakdown. He is featured as a trainer on the United States version of The Biggest Loser reality television series. He has been a trainer on the NBC show since 2004. In addition to working on the show, Harper has appeared in several Biggest Loser DVD workouts. Harper also appeared on the first three seasons of the Australian version of the show.
In addition to his appearances, speaking dates, and writing duties, Harper still teaches regular classes in Los Angeles and works as a yoga instructor.
In early 2010, Harper launched mytrainerbob.com, a website where subscribers can discuss weight loss and receive coaching. The success of his site led to the release of his first workout DVD series in May, titled "Bob Harper: Inside Out Method." Harper also contributes workouts to websites such as Shape magazine.
Harper is also an avid CrossFit athlete
Harper was born August 18, 1965 in Nashville, Tennessee. He attended Austin Peay State University in Clarksville, Tennessee but did not graduate.
After reading the book Skinny Bitch, Harper became a vegetarian. In 2010, he then became a vegan. That same year, PETA voted him sexiest male vegetarian of the year. In 2013 Harper stopped following a vegan diet due to wanting "something more."
Harper has spoken out against puppy mills and has adopted a black and white dog from the Animal Advocates Alliance in Baldwin Park, California. He named the dog Karl, after Karl Lagerfeld, because of the dog's color.
Harper is also Farm Sanctuary's 2010 Walk for Farm Animals national spokesman.
Harper publicly came out as gay in the seventh episode of the fifteenth season of The Biggest Loser, while talking to a contestant who was having difficulty telling his parents about his sexuality. Harper revealed he came out to his parents at 17, but that this was his first time ever addressing his sexuality publicly in his career. The episode aired on November 28, 2013.
To read more about Bob Harper click here
Adam Rosante 
Adam Rosante has one goal: to help you live a strong, balanced, healthy life… without losing any of the fun or style along the way.
This driving mission has led him to quickly become one of America's favorite Wellness and Fitness Experts. Adam is known the world over for his unique ability to simplify complicated info about food, fitness and self-development into easy-to-implement steps that anyone can take to lose weight, tone up and, most importantly, unlock their best selves, fast!
Hearst Digital Studios tapped him to star on their brand new CosmoBody channel where he designs and appears in totally fresh and fun fitness and lifestyle videos. It's basically Netflix for fitness and lifestyle programming.
Target immediately recognized Adam's unique combination of expertise and accessibility and crowned him ambassador for their wildly popular C9 fitness apparel brand. His 60-Second Workout on Target's A Bullseye View blog smashed the public's notion that you need a lot of time to get a great workout.
Random House will release his first book, The 30 Second Body: Eat Clean, Train Dirty & Live Hard, an easy-to-follow 6-week fitness, diet and lifestyle program, in March 2015. It's currently available for pre-order.
Named one of the sexiest trainers in the country by SELF magazine and one of the six hottest trainers to watch in 2014 by DETAILS, Adam has become a fixture in magazines, TV shows and blogs, but is as easy going and accessible as one of your crazy best friends.
To read more on Adam click here 
Abel James 
Watch Abel's great interview
A modern-day Renaissance man, Abel James is a New York Times bestselling author, award-winning talk show host, multi-instrumentalist, and serial entrepreneur. As the #1 rated Health podcast in 8+ countries, Abel's award-winning web series, Fat-Burning Man, has helped millions reclaim their health with cutting-edge science, outdoor workouts, and outrageously good food. When his debut cooking app,Caveman Feast, bested The Food Network and Martha Stewart with more than 1,000 5-star reviews in 24 hours, Abel became the first independent publisher to hold Apple's #1 food app and #1 podcast at the same time.
To find out more click here
Rich Froning 
Rich Froning Jr. (born July 21, 1987) is an American professional CrossFit athlete known for his achievements in the 2010, 2011, 2012, 2013, 2014, and 2015 CrossFit Games. He became the first person to win the title of "Fittest Man on Earth" four times with his first-place finish in the 2011, 2012, 2013, and 2014 CrossFit Games. In 2015, he led team CrossFit Mayhem Freedom to the first-place finish of the 2015 CrossFit Games, winning the Affiliate Cup.
Froning has not only been successful in the sport; he has been a pioneer in making a living off of the sport of CrossFit. Froning has won over $1,050,000 in prize money for winning the CrossFit Games four times, and has accumulated significant sponsorships from brands like Reebok,Oakley, and Rogue Fitness. In early 2015, Reebok released a shoe designed in part by Froning which bore the name of the bible scripture tattooed to his side, the Reebok CrossFit Compete 6:14.
Froning owns and operates the affiliate gym, CrossFit Mayhem, located in Cookeville, Tennessee, and is a member of the CrossFit Level 1 Seminar Staff.
To find out more click here
If you're loving Monday Man-Day you've got to check out Fitness Friday Five-5 of the Hottest Females on planet earth! 
Tim Ferress
"A cross between Jack Welch and a Buddhist monk."
-The New York Times
"Tim is Indiana Jones for the digital age. I've already used his advice to go spearfishing on remote islands and ski the best hidden slopes of Argentina. Simply put, do what he says and you can live like a millionaire."
-Albert Pope, Derivatives Trading, UBS World Headquarters
Timothy Ferriss has been listed as one of Fast Company's "Most Innovative Business People", Forbes Magazine's "Names You Need to Know," and is the 7th "most powerful" personality on Newsweek's Digital 100 Power Index for 2012. He is an angel investor/advisor (Uber, Facebook, Twitter, Evernote, and 20+ more) and author of the following books:
The 4-Hour Workweek – Sold into 35+ languages, #1 New York Times, Wall Street Journal, and BusinessWeek bestseller.
The 4-Hour Body – #1 New York Times bestseller.
The 4-Hour Chef – #1 Wall Street Journal and New York Times bestseller; winner of a Gourmand "Best in the World" Award at the 18th Annual Paris Cookbook Awards.
Tim is listed as #6 in the "Top 20 Angel Investor" rankings for 2014 (see his deals here), and Newsweek calls him "the world's best guinea pig," which he takes a compliment. His podcast — focused on deconstructing world-class performers — is often ranked #1 across all of iTunes (also iTunes' "Best of 2014" and "Best of 2015") and has exceeded 50,000,000 downloads in recent months. His episode with Jamie Foxx was voted "Podcast Episode of the Year" in 2015.
This blog is one of Inc. Magazine's "19 Blogs You Should Bookmark Right Now", and it has been ranked #1 on the Top 150 Management and Leadership Blogs list, based on Google PageRank, Alexa traffic ranking, Bing results, Technorati authority, Feedburner subscribers, and PostRank.
To read more click here 
Tony Horton
Tony Horton is the wildly popular creator of the best-selling fitness series: P90X®, P90X2®, P90X3®, and Ten Minute Trainer®, and most recently his 22-Minute military inspired workout, 22 Minute Hard Corps®. Tony is a world-class motivational speaker and theauthor of top-selling books "Bring It", Crush It!" and his latest motivational book, "The Big Picture" 11 Laws that will change your life. He has appeared on countless television programs as a fitness and lifestyle expert to promote healthy living through exercise and proper nutrition. In keeping with Tony's passion for a healthy lifestyle, he's teamed up with the beauty experts at Ultimate Salon Professionals to create his new hair and skincare line, TH Care by Tony Horton, because he believes what goes on your body is just as important as what goes in it.
Tony believes that real and lasting change can happen when we commit to health as a lifestyle. Exercise, whole foods, and the right mindset is the formula that leads to a vibrant, productive and full life for anyone who focuses on being the best they can be.
To read more about Tony just click here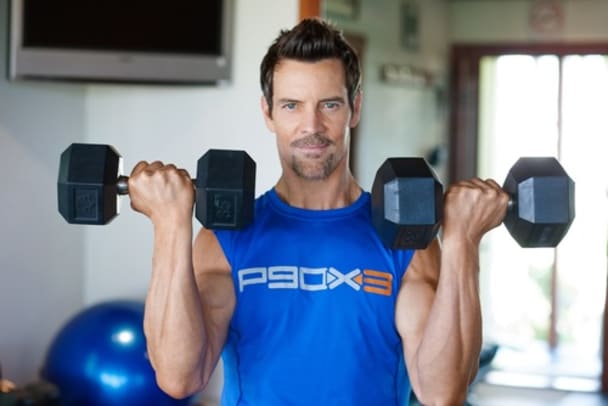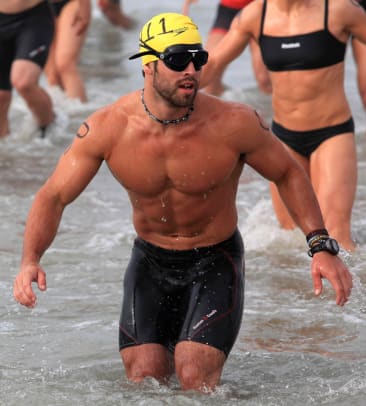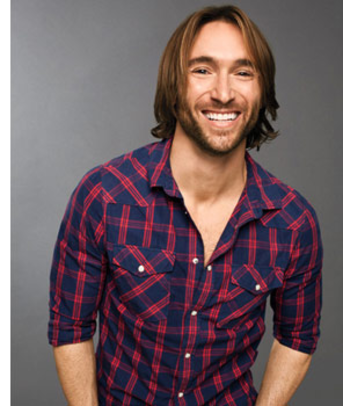 If you're loving Monday Man-Day you've got to check out Fitness Friday Five-5 of the Hottest Females on planet earth. Stay tuned for next week!