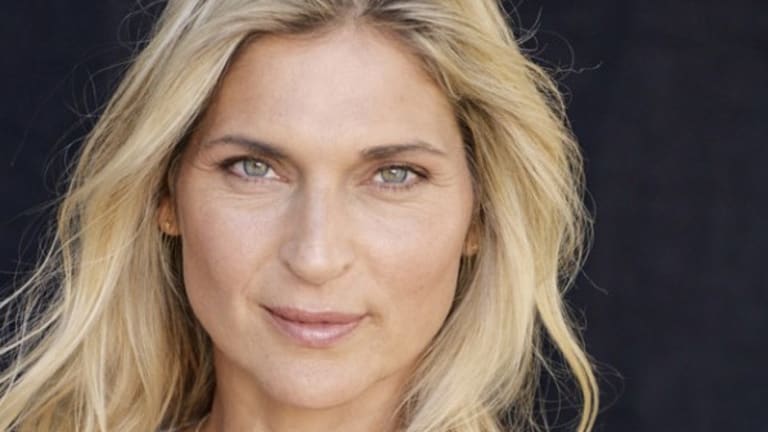 Home Mat Pilates Workout
With Gabrielle Reece
Gabrielle Reece is a big fan of health and fitness. She's one of our featured Fitness Friday Five-5 Of The Fittest Females On Earth tomorrow for a reason. Gabrielle's show Strong  launched March 2016 on NBC. "Strong" matches 10 everyday women with the world's most elite fitness trainers to conquer tough obstacles — both mentally and physically. During the 10 episodes, the female contestants and their pro partners will embark on a transformative journey in order to reach their full potential.
Gabrielle Reece
Health and Fitness Expert
Beach Volleyball Champion
First Female Spokeswoman for Nike
Creator of HIGHX High Intensity Circuit Workout
New York Times Best Selling Author
Host of the new NBC Show STRONG (airing in March 2016)
A champion on and off the court, Gabby Reece is not only a volleyball legend, but an inspirational leader who demonstrates wit, candor and sheer motivation. Her intense passion and dedication to health and fitness has led her to become a dominant influencer in this highly sought after space. 
In addition to volleyball, Reece is a fitness expert who has served as the host of Fit TV's series "Insider Training." She is also the creator of HIGHX Training, a high-intensity co-ed group fitness program.
World renowned athlete, New York Times bestselling author, wife, mother. At 6' 3" the former professional beach volleyball player and Nike's first female spokeswoman, Gabrielle Reece, is the true definition of both athleticism and feminine beauty. Gabby's commanding presence, passion for healthy living, and fitness expertise makes her a popular leader in the world of health and wellness.
Gabby Reece is the creator of HIGHX Training and joined forces with Lifeline® December of 2014 to launch a new HIGHX™ program worldwide. HIGHX is a high intensity group fitness program that is a platform to inspire men and women worldwide. Reece has been a dominant force on and off the pro beach volleyball circuit. As a result of years of personal experience and experimentation for her relentless pursuit to elevate her own fitness led her to create the HIGHX program.
Together with her husband, surfing legend, Laird Hamilton, Gabby is an avid proponent of empowering people to take responsibility for their own health, plus a truly authentic example of healthy living. Gabby has become a role model to women worldwide regarding how to achieve peak fitness, good health, and overall well-being for themselves and their entire family.
Laird and Gabby actively train under water at their home pool in Malibu, CA. XPT – Extreme Performance Training has quickly become a captivating new way of strengthening muscles, increase cardiovascular and endurance aptitudes, enhances mental focus in and out of the water, and has unique breathing and recovery methods in conjunction with working out.
In spring of 2012, Gabby was invited to Washington, DC to speak at the annual TEDMED conference on innovations in health and medicine. Gabby also has an ongoing relationship with the American Heart Association Teaching Gardens, an initiative benefiting needy schools through the planting of organic gardens, by which she speaks to children about the importance of eating healthy and regular exercise (www.takepart/teachinggarden). Additionally, to further help reverse the growing obesity crisis, Gabby has recently collaborated with her husband (surfing legend Laid Hamilton) to develop gabbyandlaird.com, a website dedicated to providing comprehensive fitness, nutrition, and motivational support to anyone looking to achieve a personal transformation to a healthier lifestyle.
Competing at the highest levels of woman's volleyball throughout most of her life, including competing professionally when five months pregnant in the summer of 2007; Gabby has been a consistent inspiration to women to stay in shape, even during their pregnancy. After a brief hiatus to start her family, in the summer of 2010 Gabby returned to competitive pro beach volleyball's AVP Tour, including an invitation to be the captain of Team Nike for a 4 on 4 exhibition tournament. Additionally, in the summer of 2010 Gabby was the face of "Lighten Up Your Summer," a web series with Glo.com sponsored by Vaseline/ALOE Fresh. (www.glo.com/vaseline), and in May 2010 appeared as a feature trainer on NBC's The Biggest Loser.
To read more click here