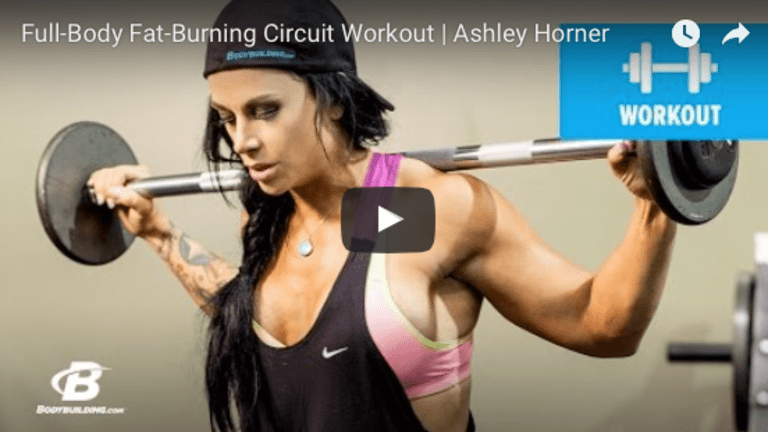 Full Body Fat-Burning Circuit Workout
Ashley Horner's Best Kept Secrets
Ashley Horner is one of our Fitness Friday Five's Fittest Females On Earth and for good reason. Mother of three, entrepreneur and philanthropist, she keeps busy and fit, dedicated to helping women and others. Showing that with hard work and determination, great obstables can be overcome. 
You're about to go on one wild ride! Join fitness athlete Ashley Horner as she takes you through her favorite Full-body fat-burning circuit workout. Try not to puke!
Follow Ashley's Program | http://bbcom.me/21y0IRS
I'm always looking for ways to push myself, to become better. I train for my strength, I train for my speed, and I train for my endurance. When it comes to fitness, I want it all.
But my training is more than just a physical outlet for my athletic abilities—it's a way for me to train my mind to overcome obstacles. It's about being strong enough to crush my responsibilities.
You too can learn to overcome those hard times in your life by pouring it into your training.
Today, I'm going to show you some of my best-kept secrets that I use to push myself to be a better athlete, fitness competitor, and mental giant. You ready?
Ashley Horner is dedicated to her children and living a fit life. Looking at her now, you would never realize that fitness has not always come easily to Ashley. After having her first two children, Ashley realized it was up to her alone to come back from C-sections and stretch marks, issues that many women deal with. She is a mother of three, cross-over athlete, pro fitness competitor, ultra-runner, and triathlete. She and her team are monthly contributors for Train for Her fitness magazine, writing a six-page spread each month. Ashley is also the Editor-in-Chief for the magazine. She represents prestigious companies like bodybuilding.com, RockTape, and Reebok.
She owns a training facility in Virginia Beach, American Sled Dogs, where she also operates the Unbroken Movement Foundation, a free program for battered women to train and regain confidence and strength. Also, spouses of deployed husbands are able to attend classes and train for free. Please click on the link to donate to Unbroken Movement. As part of the Unbroken Movement, Ashley has developed 50 chapters of the foundation (one in each state), led by Ashletes, that collect shoes for the homeless. Each month, shoes are collected, donated, and distributed.
Ashley also owns the Valkyrie clothing line and designs 100% of every item produced. Valkyrie, meaning "chooser of the slain," is a female war goddess, a sister armed with helmet and spear. They are often depicted as riding wild wolves, or, in some accounts, as soaring through the air raven-like, scavenging for souls. The Valkyrie is emblematic of finding beauty in strength, the underlying theme in all of Ashley's projects.
To read more click here