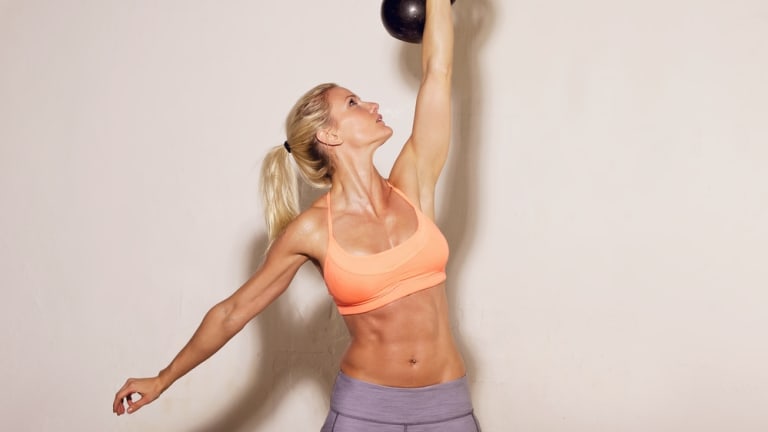 Fitness Friday Five; 5 Of The Fittest Females On The Planet #3
5 Incredible Role Models To Inspire You
When I started the Fitness Friday Five, I wasn't quite sure where the journey would lead me. However, this being the third installment, it's becoming clearer. My philosophy is that "fitness" is not, only the body, but is important in all areas of our lives. Mentally, physically, and how we navigate this sometimes very tough road called life, will always be easier if we take care of ourselves and strive to be our best. As the age old adage goes, if it doesn't kill you, it makes you stronger.
 I am a firm believer in this. 
So don't be surprised by who shows up in the Fitness Friday Five Fittest Females column. No matter age or profession, their "fitness" might not be what you're expecting. However, the one thing they will have in common, is they are here to inspire us to be our fittest, mind, body, planet and soul. 
Ronda Rousey
Ronda Jean Rousey (born February 1, 1987) is an American mixed martial artist and judoka. She is the first and current UFC Women's Bantamweight Champion, as well as the former Strikeforce Women's Bantamweight Champion. She has finished all of her opponents by armbar in the first round. Rousey became the first American woman to earn an Olympic medal in Judo at the Summer Olympics in Beijing in 2008.
Rousey trains under famous fighters Gokor Chivichyan of the Hayastan MMA Academy and Edmond Tarverdyan of the Glendale Fighting Club. She is part of Team Hayastan in Santa Monica, California. She is managed by Darin Harvey of Fight Tribe MMA.
Rousey is the consensus #1 pound-for-pound female MMA fighter in the world, according to MMARising, MMAWeekly, and many other publications. She is also ranked #1 at 135 pounds according to the Unified Women's MMA Rankings.
To find out more about Ronda click here
Vani Hari
 Vani Hari, better known as "The Food Babe." Most of her life, she ate anything she wanted. She was a candy addict, drank soda, never ate green vegetables, frequented fast-food restaurants and ate an abundance of processed food. Her typical American diet landed her where that diet typically does, in a hospital. It was then, in the hospital bed more than ten years ago, that she decided to make health her number one priority.
She used her new found inspiration for living a healthy life to drive her energy into investigating what is really in our food, how is it grown and what chemicals are used in its production. She didn't go to nutrition school to learn this. She had to teach herself everything spending thousands of hours researching and talking to experts. She began to learn more, she was no longer duped by big business marketing tactics, confused by lengthy food labels, and it became easier for her to live in this over-processed world. Most importantly, the more she learned and the more lessons she put into action, the better she felt and wanted to tell everyone about it! Her hope for you is that by assimilating the information you learn on FoodBabe.com into your own life, you can experience a richer sense of health and well being than you ever imagined possible!
To read more click here
If you like this, be sure to click here if you missed our other Fitness Friday Fives!
Kristina Carrillo-Bucaram
FullyRaw is the creation of Kristina Carrillo-Bucaram, a pioneer in the local, organic food co-operative movement. The founder of the largest raw, organic produce co-operative in the U.S., she has been 100% raw for over nine years. An exemplification of all that she wishes to create, she is a leading visionary in the raw movement, especially in Houston, TX.
She attended both Vanderbilt University and Rice University, and she graduated from Rice University on the top 5% of her class in 2009 with a triple major in Kinesiology specializing in Health Science, Raw Foods, and Fasting. Since then, she has been involved highly in the movement of Organic Horticulture, Permaculture, and Co-operative Communities.
Kristina's inspiration for being FullyRaw came after she was able to rid herself of Hyperglycemia at the age of 18 eating nothing but a low fat raw vegan diet consisting solely of fresh fruits and vegetables with few nuts and seeds. After being a direct understudy of 20+ year raw fooder John Rose, she interned and worked under Dr. Graham at his health events in Seattle and in Costa Rica. She has lived in the Dominican Republic and in Costa Rica, and she has become an avidly enthusiastic runner who runs at least 6-8 miles a day!
To read more about Kristina click here
Rachel Brathen
Swedish native Rachel Brathen is a New York Times best-selling author, motivational speaker and international yoga teacher residing in Aruba. After graduating school in Stockholm she traveled to Costa Rica and it was here that she found the joy of incorporating yoga into her everyday life. Deepening her yoga practice and also taking her first steps towards teaching, she ended up moving to Central America where she spent years exploring the intricate studies of yoga and spirituality. After moving to Aruba early 2010 she started teaching yoga full time on this Caribbean island. Her classes are a dynamic Vinyasa Flow integrating alignment, core work, and breathing techniques with basic poses and creative sequencing. With close to two million followers in social media, Brathen shares pieces of her life with the world every day and constantly travels the globe to connect with her community.
To read more about Rachel click here 
Misty Copeland 
Born in Kansas City, Missouri and raised in San Pedro, California, Misty Copeland began her ballet studies at the late age of thirteen. At fifteen, she won first place in the Music Center Spotlight Awards. She studied at the San Francisco Ballet School and American Ballet Theatre's Summer Intensive on full scholarship and was declared ABT's National Coca-Cola Scholar in 2000. Misty joined ABT's Studio Company in September 2000, joined American Ballet Theatre as a member of the corps de ballet in April 2001, and in August 2007 became the company's second African American female Soloist and the first in two decades. In June 2015, Misty was promoted to principal dancer, making her the first African American woman to ever be promoted to the position in the company's 75-year history.
In 2008, Misty was honored with the Leonore Annenberg Fellowship in the Arts, a two-year fellowship awarded to young artists who exhibit extraordinary talent providing them additional resources in order to attain their full potential. Performing a variety of classical and contemporary roles, one of Misty's most important roles was performing the title role in Firebird, created on her in 2012 with new choreography by much sought after choreographer Alexei Ratmansky. In December 2014, Misty performed the lead role of "Clara" in American Ballet Theatre's production of The Nutcracker, also choreographed by Alexei Ratmansky. In the fall of 2014, she made history as the first black woman to perform the lead role of "Odette/Odile" in American Ballet Theatre's Swan Lake during the company's inaugural tour to Australia. Misty reprised the role during ABT's Metropolitan Opera House spring season in June 2015, as well as debuted as "Juliet" in Romeo & Juliet.
To read more about Misty click here