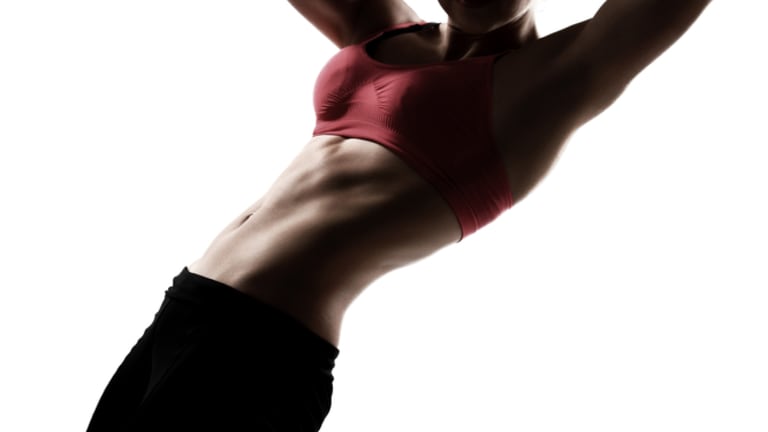 Fitness Friday Five; 5 Of The Fittest Females On Planet Earth Pt. 2
5 Incredible Role Models To Inspire You
Our first Fitness Friday Five post did so well that it seemed like a good idea to continue it. To showcase amazing women in the world of health, wellness and fitness who are role models and inspiration. In a world where women get objectified and many times portrayed as the weaker sex, this post is about strong women. Women who are breaking records, walls, and barriers, paving the way for a new generation. One where 'sexy' is strong. After all, one of the very reasons I took this position was to share my passion for health and wellness and do my best personally to be a good role model as well. 
Gabrielle Reece is the perfect person to kick off today's Fitness Friday with the debut of her new NBC show Strong. 
Gabrielle Reece 
One of the greatest women's beach volleyball players of all-time, Gabrielle Reece is also a successful model, actress, writer and fitness expert. Born in California in 1970. Raised in the U.S. Virgin Islands and Florida, Reece made a name for herself at Florida State University, where she starred for the school's volleyball team and launched her career as a successful model. She later became one of the leading faces of professional beach volleyball. Reece is married to surfer Laird Hamilton.
Gabrielle Reece has been tapped to host NBC's upcoming transformation competition series "Strong," which hails from exec producers Sylvester Stallone and "The Biggest Loser" creator Dave Broome.
Tapping into the health and wellness movement, "Strong" matches 10 everyday women with the world's most elite fitness trainers to conquer tough obstacles — both mentally and physically. During the 10 episodes, the female contestants and their pro partners will embark on a transformative journey in order to reach their full potential.
"I couldn't be more proud and thrilled to partner up with NBC on 'Strong,'" said Reece. "The opportunity to share the concept of people wanting to and working toward tapping into their greatness is a dream. My hope is that we can use the show to inspire and motivate others."
To read more click here
Tracy Anderson
Tracy Anderson-"I am a researcher, creator, teacher, and giver". I love to see people shine as brightly and as confidently as they possibly can. When you let your light shine, you tap into the energy and support you need to fully realize your best self and pursue your dreams to the fullest. That's why for over 16 years, my mission has been to create balance where there is imbalance in your body. The revolutionary Metamorphosis by Tracy program is the at-home translation of the Tracy Anderson Method: It's the perfect solution for devotees who do not live near a Tracy Anderson studio. Through this intensive DVD series, you will defy your genetics and completely transform your body by doing the same workouts that are created for clients in the studios. And like in the studio, the routines change completely every 10 days to ensure that the accessory muscles are consistently challenged and that you never plateau. While the Tracy Anderson Method is far from easy, it's wildly effective and efficient—and that's as it should be. This program is one where the effort is commensurate with the results, where there are no empty promises. If you follow Tracy's lead, she will give you a body you never believed you could have.
To read more about Tracy click here. If you like this, you'll love our first Fitness Friday 5
Camille Leblanc-Bazinet
Camille Leblanc-Bazinet (born October 10, 1988) is a Canadian professional CrossFit athlete. She is the female winner of the 2014 CrossFit Games. She is also an accomplished weightlifter, having qualified for the national championship for weightlifting in Canada.
Throughout her early years, she did gymnastics at a high level for almost 14 years. At age 16, her career as a gymnast was stopped after tearing her hip. After recovering, she played senior AA soccer and volleyball. She later was the captain of her flag football team in college. Leblanc-Bazinet also spent time running half marathons, skiing, and playing rugby. In an interview, she said she was introduced to CrossFit after a man told her she was not in shape at a team party. Prior to joining, Leblanc-Bazinet's parents were "totally against it" and her friends believed that it was too dangerous. However, they all decided to give it a try and have continued.
To read more click here
Ashley Horner 
Ashley Horner is dedicated to her children and living a fit life. Looking at her now, you would never realize that fitness has not always come easily to Ashley. After having her first two children, Ashley realized it was up to her alone to come back from C-sections and stretch marks, issues that many women deal with. She is a mother of three, cross-over athlete, pro fitness competitor, ultra-runner, and triathlete. She and her team are monthly contributors for Train for Her fitness magazine, writing a six-page spread each month. Ashley is also the Editor-in-Chief for the magazine. She represents prestigious companies like bodybuilding.com, RockTape, and Reebok.
She owns a training facility in Virginia Beach, American Sled Dogs, where she also operates the Unbroken Movement Foundation, a free program for battered women to train and regain confidence and strength. Also, spouses of deployed husbands are able to attend classes and train for free. Please click on the link to donate to Unbroken Movement. As part of the Unbroken Movement, Ashley has developed 50 chapters of the foundation (one in each state), led by Ashletes, that collect shoes for the homeless. Each month, shoes are collected, donated, and distributed.
To read more click here
Brooke Ence
It was the ninth event of the 2015 Reebok CrossFit Games, and Brooke Ence couldn't see. Competitors to each side sported sunglasses to block the California sun's piercing gaze; Ence, a rookie, had none.
Athletes had two 20-second windows to establish a max clean-and-jerk. In her first window, Ence put 227 pounds on the board. Feeling lightheaded as she locked out the weight, she was tempted to go for a more modest 235 pounds on her second attempt instead of the 242 pounds her coach, Michael Caza-youx, had prescribed. After all, she'd hit her lifetime PR of 245 pounds just two weeks prior, and that was without two days of CrossFit Games events beforehand.
She shook off her doubt. "I thought, Nope, he gave me that number for a reason," Ence recounts. She loaded her bar with 242 pounds and asked to borrow her judge's sunglasses. After a slight bounce to wind up her hamstrings, she pulled the weight and dropped in a squat, popping the barbell to regrip after she rose. Four seconds and one deep breath later, she dipped, drove and locked out the weight. Breaking into a grin before she'd even finished the lift, she slammed the bar to the ground and tore off her weight belt in celebration.
At 2 pounds more than four-time Games competitor Lindsey Valenzuela would lift, Ence's score was good enough for first place. She went on to earn 14th overall in her debut Games appearance with two event wins and four top-10 finishes.
To read the rest more click here 
If you like this, you'll love our first Fitness Friday 5