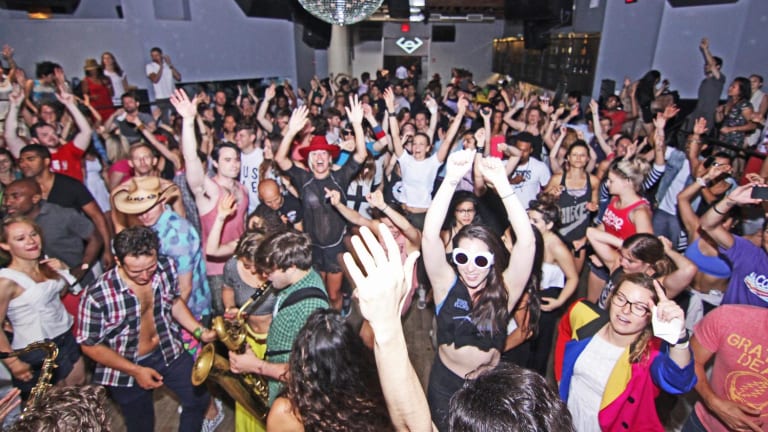 DAYBREAKER; A Fun Health Conscious Party Alternative To The Gym
Dance Your Way Into Your Day
Fitness has to be fun. If it's repetitive or boring, there's a good chance you're going to give it up. In today's world, we've come a long way from free-weights and aerobic classes. Now the class schedules at gyms are full of a multitude of choices. And today, besides gyms, we have a lot of other studios such as Yoga, Spin, Pilates, Barre and more, pretty much in the vicinity of most neighborhoods. Now fitness has a new friend and it's taking it to a whole new level. Finally, fitness has become a party too, DAYBREAKER.
Over a late-night falafel in Williamsberg, Brooklyn in the fall of 2013, Brimer and Radha mused over an idea: an idea about dancing before the day broke with people we love. About creating a community that values camaraderie, self-expression, wellness, mindfulness, and mischief. About going to work with our brows slightly dewed from moving our bodies with reckless abandon, sans alcohol but with so much spirit, surrounded by the most amazing people we know. 
It all began as an art project/social experiment, and people loved it! It's now become something of a movement, and we've been thrilled by the response of our growing global community.
The first DAYBREAKER event was held on Dec. 10, 2013, in the basement of Coffee Shop on Union Square. It was snowing!
 Say goodbye to average mornings! Shimmy your way into the new day with DAYBREAKER, an early morning dance party, intense workout, and mood booster all in one! No more dreary treadmills or circular runs around a track going nowhere. Wake up with complimentary hot coffee and tea, delicious free snacks and get ready to get your groove on.
 Superstar DJs provide the freshest beats while you boogie alongside fellow DAYBREAKER disco queens and kings and enjoy live performances from costumed characters and talented performance artists. Each two hour, dry dance party is alcohol-free but full of spirit, promoting love and mindfulness to give attendees an uplifting, energizing start to the day.
 Co-Founders Matthew Brimer and Radha Agrawal enthuse "DAYBREAKER is about dancing before daybreak with people we love; about curating a community of camaraderie, self-expression, wellness, and mischief". 
The revolutionary morning movement has successfully moonwalked its way through New York, London, Los Angeles and San Francisco attracting people of all ages, occupations, and backgrounds with its new approach to fitness and fun. Amsterdam, Atlanta, and Seattle are next on the list with plans to expand the network of DAYBREAKER parties globally. 
Be sure to go to their website and check for the next party near you. If you're in Los Angeles this Thursday April 7, 2016 click here for event details. See you on the dance floor.