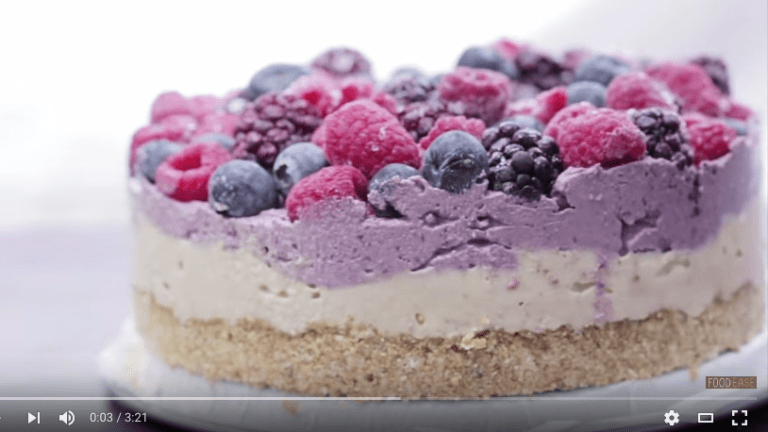 5 Sunday Sweets-Healthy, Vegan And Delicious
Try These Treats As An Alternative To High Calorie No Nos!
Sunday is the perfect day to relax and treat yourself after a long hard week. Treating yourself doesn't mean you have to be unhealthy either. Everything in moderation. These 5 recipes look delicious! So, if you want to treat yourself to something sweet? Here is a perfect example of desserts, that are good for you. 
Strawberry Cheesecake Bites
This looks delicious too!
Ingredients: 70 g of cashew+ 10 g of coconut oil +vanilla+strawberries+1 banana+ 3-4 g of agar powder. For the second one i used 100 g dates+ 30 g of hazelnuts + 1 nectarine + 2 frozen bananas and some coconut flackes( for the vegan ice cream)
Cherry Banana Cheesecake
RAW CHERRY BANANA CHEESECAKE

Base:
½ cup almonds
½ cup buckwheat groats
½ cup dried dates

Layers:
1 cup cashews (soaked over night)
½ cup frozen sour cherries (pitted)
1 frozen banana

Optional:
Sweetener
Fruits to garnish

1. Add all ingredients for the base to a blender/food processor and process until well combined and a sticky dough begins to form.

2. Line the base of a 7" spring form pan with cling wrap/parchment paper spread the dough. Place it in the freezer for a couple of hours or over night.

3. Drain the cashews and put half of the cashews and banana into the blender/food processor and process until smooth and creamy. Spread out the banana mixture on top of the base layer. Place in the freezer to keep it cold.

4. Meanwhile add the other half of the cashews and add the cherries to the blender. Process until smooth and spread the mixture on top of the banana layer.

5. Top with frozen fruit and place back into the freezer for a couple of hours to set.

6. Before serving, take it out and let thaw for about 20 minutes.



Credits to:
Carina
http://csroadtoeverywhere.blogspot.com/
Instagram: @roadtoeverywhere
Grandma's Oatmeal Raisin Cookies YES VEGAN! 
Easy Vegan Black Bean Brownies
INGREDIENTS

1 1/2 cups black beans (that's one 15-oz can), drained and rinsed
2 tbsp cocoa powder
1/2 cup quick oats (or regular oats will work, too)
1/4 tsp salt
1/3 cup maple syrup
2 tbsp sugar
1/4 cup coconut or vegetable oil
2 tsp vanilla extract
1/2 tsp baking powder
2/3 cup chocolate chips

RECIPE

Preheat oven to 350F. Combine all ingredients except chips in a food processor (or a Vitamix blender), and blend until completely smooth. Stir in the chips, then pour into a greased pan.
Cook the black bean brownies 15-20 minutes, then let cool.
If you give any of these a try, we'd love to hear from you.
Also be sure to check out our other delicious healthy recipes here!