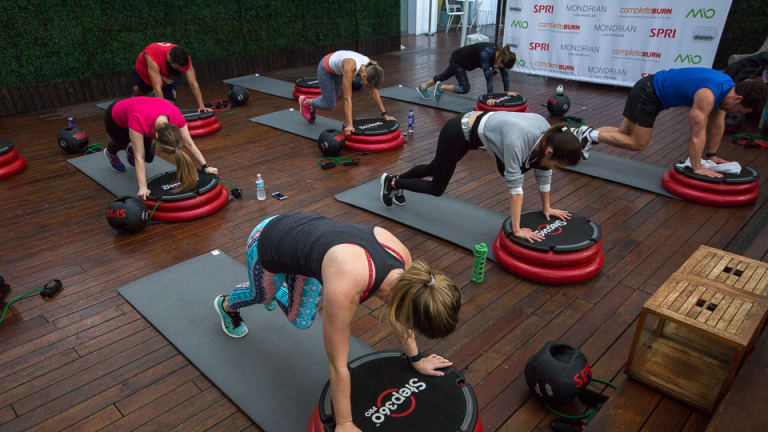 What's New? CompleteBURN Fitness
LA's Hottest Group Fitness Experience
completeBURN Fitness Rolls Out an Innovative Fitness and Wellness Program at Mondrian Los Angeles Featuring the Latest in Heart Rate Fitness Technology
completeBURN Fitness LA's new fitness, body, and mind program that combines the benefits of personal training with small group experiences, has joined forces with Hollywood's most iconic Sunset Strip hotel, Mondrian Los Angeles, to kick-off a limited engagement preview of the hotel's first-ever guest wellness and fitness program. Program opens to the public and general guests for a limited time on March 7, 2016.
completeBURN incorporates Mio heart rate monitor wristbands into their workouts to get an optimal workout with maximum results. 
completePOWER – bodyweight and weight-driven exercises that are scientifically proven to continue burning calories long after you leave the studio, led by fit-consultant and group fitness trainer Leah Purcell. (normally 35-minute class)
completeCORE – intense endurance challenge that will blast your core, led by Jake DuPree as seen on CBS's The Doctors and PopSugar Fitness (normally 45-minute class)
Other classes in the series are completeCORE weighted which is an efficient nonstop 35 minute power workout that will MELT fat while sculpting muscle. And, completeAGILITY which fuses Gymnastic drills and unconventional Plyometric movements in a KICK-ASS workout. Perfect your balance and flexibility. Get ready to sweat! Only a limited amount of classes are being rolled out The Mondrian. Their permanent home is at LiveArtistLA so please check their schedule for complete details.  
Pioneered by fitness advisor Leah Purcell, a professional dance instructor and fit-consultant for Adidas, completeBURN helps improve the lives of participants through a uniquely designed community-based fitness program that maximizes physical strength, flexibility and mental focus. Training uses heart rate monitors to ensure participants experience optimal training by tracking their specific heart rate zones. Purcell was formerly a fitness consultant for Adjimi Apparel (Denise Austin Apparel), FILA and Gramicci Apparel.
Mio Global engineers performance wearables to empower consumers with the data they need to connect, monitor and improve training intensity. A recognized pioneer in sport and fitness technology, Mio is known for its industry-leading heart rate monitor technology.
Class Schedule at Mondrian Los Angeles Starting Tues. March 8 – Thurs. March 31, 2016
WHERE: Mondrian Los Angeles (Skybar Cabanas)
8440 Sunset Blvd.,
West Hollywood, CA 90069