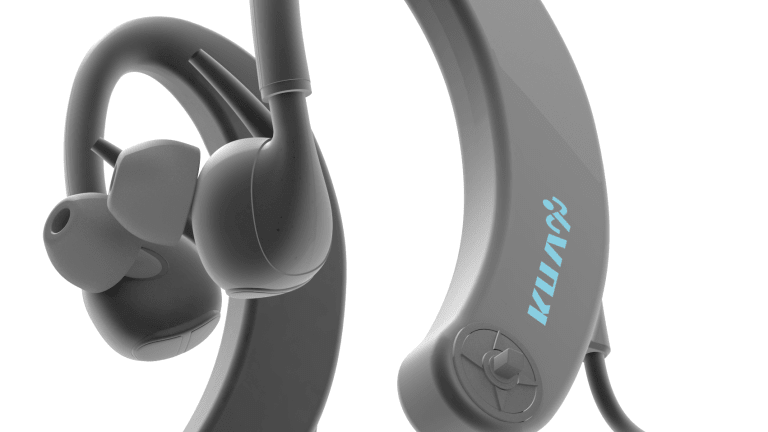 KUAI-All In One; Fitness Device, Personal Trainer And Music Headphones
The world's first multi-sport headphones with real-time voice coaching from Olympic athletes.
This is amazing! Kuai replaces the need to carry a heart rate strap, foot-pod, sport-watch, phone and headphones, and it works with an online store of training plans from some of the world's top athletes, allowing you to have a "wearable coach" to train smarter and achieve your fitness goals while listening to your favorite music.
Kuai in July 2015 had already  raised over 189% of their campaign goal. Since then, this year 2016, they unveiled at the Consumer's Electronic Show with rave reviews and taking the fitness world by storm. The world's first clinically validated multi-sport biometric headphones with memory and professional training plans. Although the headphones aren't available right now, Kuai Multisport Biometric Headphones from Kuaiwear, are taking preorders at www.kuaiwear.com
At the gym today, a friend was lamenting the fact that she couldn't afford to get a personal trainer but how beneficial they really were.  These headphones could be the problem solver for many people who wish they could afford a personal trainer but can't. 
"Kuai serves an unmet need in the market for a device that coaches users during exercise by providing professional training plans and live voice-coaching feedback," says Kuaiwear CEO Carlos Marco Rider. "Working closely with a team of scientists, we developed a device that provides mindful and actionable data specifically generated in response to each user's biometric data. No other product on the market combines all of these features into one simple wearable."
This is the world's first sport headphone with integrated sensor technology and real-time voice coaching from Olympic athletes. Kuai acts as a personal coach in your ear, guiding you through your chosen training plan tailored for running, swimming, cycling, keeping fit, or losing weight; a comprehensive device to help you achieve your fitness goals without having to carry any other devices. Kuai revolutionary headphones have been designed for multi-sport; a training tool to help you perform better during exercise and achieve your personal goals with live voice coaching from professional athletes.
I am definitely looking forward to trying these out. 
Read more: http://www.digitaltrends.com/ces/these-headphones-from-kuaiwear-give-you-an-olympic-athlete-as-a-trainer/#ixzz43rO3OEJF