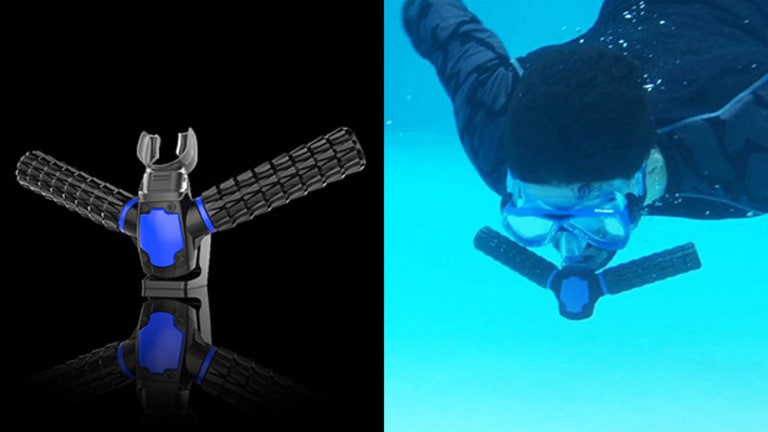 Breathe Underwater For 45 Minutes
New Technology Allows The Impossible!
I was just at the gym speaking to a friend about this today. When we were young, the things we saw on Television show's like the Jetsons, had come true. Microwaves, phones that allowed us to view our friends anywhere in the world, drones, computers, interstellar travel, 3D printing, and much more. When I was young, these were the things of science fiction. Now, many incredible technologies have propelled humanity in ways we never imagined. 
Today I am excited to share with you something I just found. An incredible new device that allows you to breathe underwater for 45 minutes! 
Welcome to the future of underwater breathing
Triton. A state-of-the-art oxygen respirator, that allows you to breathe underwater by utilizing our 'artificial gills' technology. Swim among tropical fish, marvel at exotic coral and experience the serene beauty of marine life − without having to come up for air. Welcome to Triton.
With Triton, there's no heavy equipment, complicated safety procedures or training. It's easy to use, and no longer than a snorkel. Gently bite into the mouthpiece, breathe normally, and enjoy a sense of underwater freedom unavailable until now. Just imagine exploring gin-clear waters, alongside tropical fish, without bulky equipment or having to surface for air.
A new world of freedom
We have a passion for exploring marine life. And we enjoy snorkeling. It's fun but limited. With Triton you'll be able to explore with a new sense of freedom.
A fully-charged battery enables to 45 minutes of underwater pleasure. And with a maximum depth 15 feet, you'll swim among marine life, rather than merely looking down on it. Triton empowers you with the ability to see and feel the vivid, sub-aquatic world close up.
Triton employs cutting-edge technology to produce 'artificial gills'. The Microporous Hollow Fiber makes breathing underwater possible. The holes of the threads are smaller than water molecules, they keep water out and let oxygen in. The micro compressor then extracts and stores the oxygen – allowing you to breathe naturally and revel in your underwater freedom.
We are using a very powerful modified micro compressor, it compresses oxygen and stores the extracted oxygen in a storage tank. The micro compressor operates through a powerful modified lithium-ion battery.
Be sure to please stay tuned to find out more about all the latest in breakthrough technologies. Or, please let us know if you've discovered something amazing? We always love to hear from you. To find out more about the Triton and find out how you can be a part of history in the making, just click here.