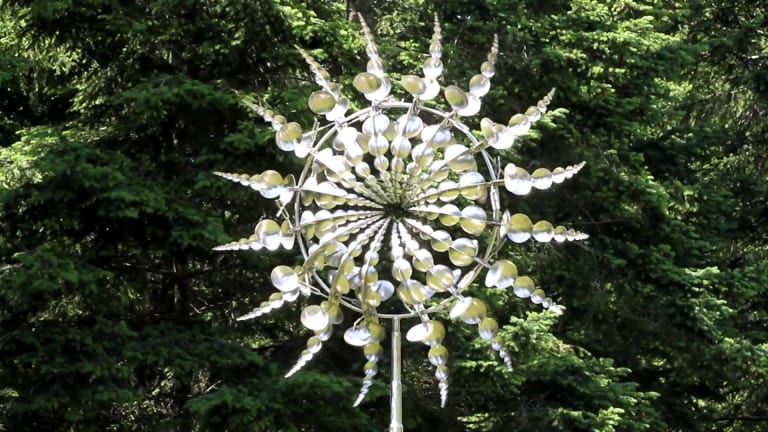 A Visual Feast For A Chill Out Mix; For Stretching Or Yoga
Incredible Video Featuring The Art Of Anthony Howe; Mix By Angelique
Anthony Howe is an amazing modern day genius and artist. His work is magical and meditative. His art infuses the elements of earth, the wind and sacred geometry to give the viewer a visual psychedelic feast for the eyes, touching the heart and soul. I wanted to post a chill-out low-intensity mix, with a little something extra for you. While getting our cardio revved up is important, we must always remember to stretch. Anthony's great art shows the process of yin and yang, his sculpture's dance with the wind. Our bodies function very much in the same way. If we workout hard, yin, the stretching, breathing or restorative yoga side, would be the yang. 
Anthony Howe was Born in Salt Lake City, Utah, he attended the Taft School in Watertown, Connecticut followed by Cornell University and the Skowhegan School of Sculpture and Painting.
He then built a house on a mountaintop in rural New Hampshire and painted watercolors and had several one-man shows in Boston. A sense of unease in both the isolation and the subject matter of his paintings resulted in the selling of the house and a move to Manhattan. His new, part-time occupation of erecting shelving for the storage of office records resulted in the discovery of a new medium, metal. Further exploration combined with previous interests in the wind and movement led to the making of kinetic wind sculptures. He then strung discarded elevator cables across local rooftops. On those cables, he hung his first series of wind powered sculptures.
He now lives on Orcas Island, Washington, with his business partner wife. His work has sold in the Middle East, California, and many places in between. It has been showcased in palaces, sculpture parks, and the Barneys Christmas window in Manhattan.
Anthony's work is not available for commission. His process keeps him working through the nights in his remote island workshop. The pieces resulting from that work which is not sold are listed on his website in the ordering section.